Ek Mukhi – The Supreme Rudraksha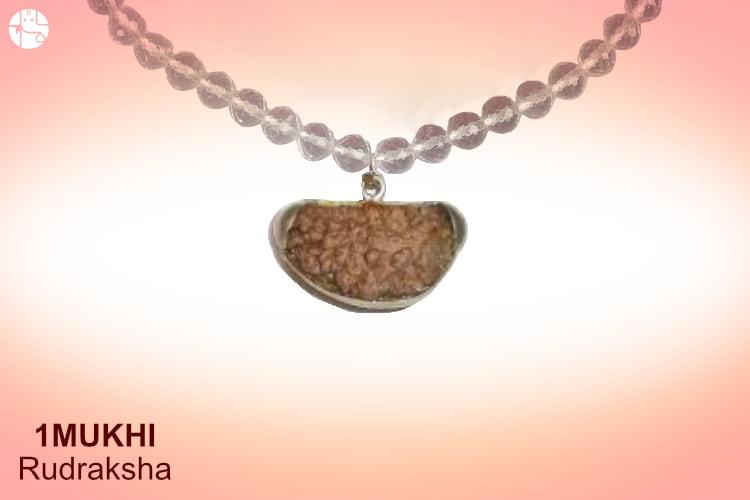 The word Rudraksha is a symbol of Lord Shiva himself. So, it goes without saying that rudraksh has divine powers and energy. There are around 38 Mukhi Rudraksha available as per the vedic scripture. But the King of Rudraksha is the Ek Mukhi Rudraksha. It is found in two shapes – the round and the half-moon shape. Of the two, the round Ek Mukhi is praised more but is rarely found.
The Ek Mukhi Rudraksha is the symbol of Supr eme Power, Truth and Eternity. The ruling planet of 1 mukhi rudraksha is the Sun, which is the brightest in the cosmos. Hence, the Ek Mukhi rudraksha helps attain enlightenment of Conscious.
Admired by Lord Shiva and ruled by the Sun, the Ek Mukhi rudraksha gives many benefits to its bearer.
It increases the concentration of the mind
It makes the person happy and peaceful from within
The wearer enjoys the worldly pleasure but is unaffected by its negative effects
It can help make a person prosperous and fulfil his desires
It helps in destroying the sins and negative karmas of past births
It helps in attaining moksha and liberation
The effects of Ek Mukhi rudraksha can be felt in the Sahasrara chakra of our body, which is responsible to maintain the balance of mind. The imbalance of Sahasrara chakra can result in depression. Hence, Ek Mukhi Rudraksha is effective in fighting depression. Also, it is very effective in curing migraine. It is also beneficial in ailing psychotic and neurotic disorders in a patient.
Maa Lakshmi showers her blessings on the wearer of Ek Mukhi Rudraksha. Lord Shiva also gets pleased with the wearer and helps remove obstacles from his life. With the blessings of Lord Shiva and Maa Lakshmi, the wearer leads a peaceful and successful life.
The benefits of 1 Mukhi Rudraksha can be enjoyed by wearing it in the form of a pendant in the neck or by enshrining it in the pooja room of the home. Both give equal results. Invoke the blessings of Lord Shiva and nine planets, with Rudrabhishekam Puja performed by expert purohits.
Om Namah Shivay!
1 Mukhi Rudraksha is the most auspicious and divine element to be enshrined in our temples and over the body. The one who comes in direct contact with it is blessed by the Supreme Deities. It brings favourable results to everyone, adult or child, doctor or engineer, businessman or politician. It is the easiest way to invoke Lord Shiva. Just chant Om Namah Shivay 108 times with Ek Mukhi rudraksha and feel the bliss. Get rid of obstacles, enemies, fear and health issues.
To Get Your Personalized Solutions, Talk To An Astrologer Now!
With Ganesha's Grace,
The GaneshaSpeaks.com Team