30th January, 2013, Nifty Predictions, Sensex Nifty, 2013 Market Sensex
Hurry! Order your copy of the Market Predictions 2013 NOW! Remember, it's a limited edition book. Now available on pre-order basis!
In the book Market Predictions 2013, you will get –
The dates for Zero Weightage in the Year 2013
Time slot-based, micro-level analysis and predictions of the potential Stock Market Trends for the entire year 2013
An yearly projected graph for the stock markets in the year 2013
Astrological High and Low for the year 2013 for various Stock Indices across the world – Nifty, Sensex, Dow Jones Industrial Average, NASDAQ, Heng Seng, NIKKEI
Very Active, Wide Fluctuation and Hi Volatility dates in the year 2013
The most important and potent Opening dates during the year 2013
Moon Sign Based Predictions and Remedies for individuals – with a specialized financial perspective.
Relevant Articles on possible trends across the World with a keen financial perspective
The list doesn't stop here! Book your copy NOW!
Please order your copy of the stock markets' book Market Predictions 2013 NOW, till the stocks last!
To Buy this Book Log on to GaneshaSpeaks.com or stockmarket@ganeshaspeaks.com or Call: 09909941816
Virgo: At the starting of this week, you may find it difficult to adjust to a regular nine-to-five lifestyle, says Ganesha. Although you will have no option but to continue working, it will not be an enjoyable experience. However, post Tuesday, you will get your natural work rhythm back. Due to favourable planetary configurations, you will become more organised. You may also become conscious of your food habits and diet, even though no illness is foreseen. Overall, this week will provide you good reasons to smile.
Libra: Financial gains are likely this week. You will spend this extra income on someone or something that you adore. At work, you shall give your best and the improvement in your performance shall be felt. There will be a definite change in your approach and thinking this week, foresees Ganesha. Your views on religion and related matters will go through a noticeable change and you may become an atheist. However, this would be a temporary phase and you shall soon recover your lost faith through contact with spiritually inclined people.
Scorpio: Work-wise, a difficult week is in store as you reel under pressure, lack of desired support and frustration at not being duly rewarded for your hard work. However, you should keep your cool even in such difficult times at the work-place even if some undeserving candidate gets preferential treatment. Your actions will speak louder than words and you will get your due at the appropriate time. On the financial front, pay attention to joint bank accounts/finances. Disputes are likely regarding matters of inheritance. You should try to solve them amicably without entangling yourself in legal battles, advises Ganesha.
Gujarati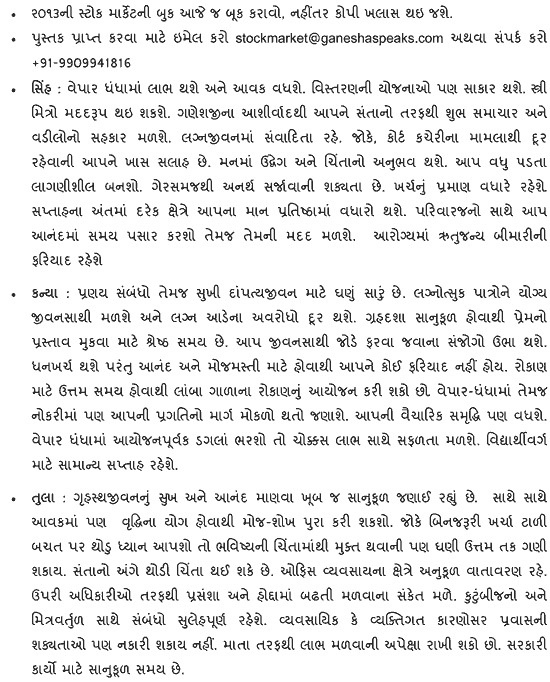 Hindi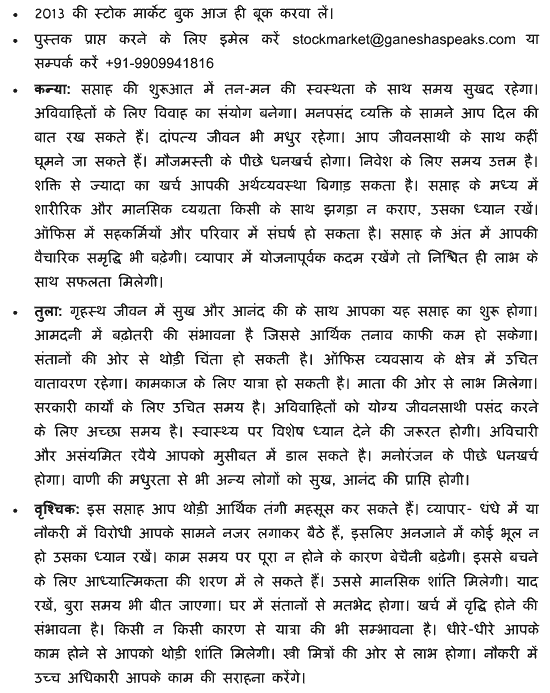 With Ganesha's Grace,
Dharmeshh Joshi,
09909941816
www.GaneshaSpeaks.com