5th February, 2013, Nifty Predictions, Sensex Nifty, 2013 Market Sensex
Consider 10 minutes plus and minus in each prediction, and act accordingly.
Ganesha advises you to compare every prediction with the prediction of the previous time slot.
Please order your copy of the stock markets' book Market Predictions 2013 NOW, till the stocks last!
The last day of the month, 28-02-2013, is also the last the day Thursday for the F&O transactions for the month and a zero weightage day. Besides, the Financial Budget is also going to presented on 28-02-2013.
Ganesha is working on a special Article regarding the Financial Budget-2013-2014. The Article will be sent to you soon.
In the book Market Predictions 2013, you will get –
The dates for Zero Weightage in the Year 2013
Time slot-based, micro-level analysis and predictions of the potential Stock Market Trends for the entire year 2013
An yearly projected graph for the stock markets in the year 2013
Astrological High and Low for the year 2013 for various Stock Indices across the world – Nifty, Sensex, Dow Jones Industrial Average, NASDAQ, Heng Seng, NIKKEI
Very Active, Wide Fluctuation and Hi Volatility dates in the year 2013
The most important and potent Opening dates during the year 2013
Moon Sign Based Predictions and Remedies for individuals – with a specialized financial perspective.
Relevant Articles on possible trends across the World with a keen financial perspective
The list doesn't stop here! Book your copy NOW!
Please order your copy of the stock markets' book Market Predictions 2013 NOW, till the stocks last!
To Buy this Book Log on to GaneshaSpeaks.com or stockmarket@ganeshaspeaks.com or Call: 09909941816
Expect time correction at Nifty this week. And, there may not be price correction, foretells Ganesha.
During opening to 9:30, Nifty may get stabilised.
During 9:30 to 10:35, there may be jobbing on the up-side at Nifty, hints Ganesha.
You are advised to avoid trading the time slot between 10:35 to 11:35, as you may not be able to trade confidently.
The next time slot may prove to be excellent!
It is a zero weightage period from 11:35 to the closing bell, which means that the trend at Nifty will be like a double-edged sword. However, you may earn good profits through intraday transactions.
Gujarati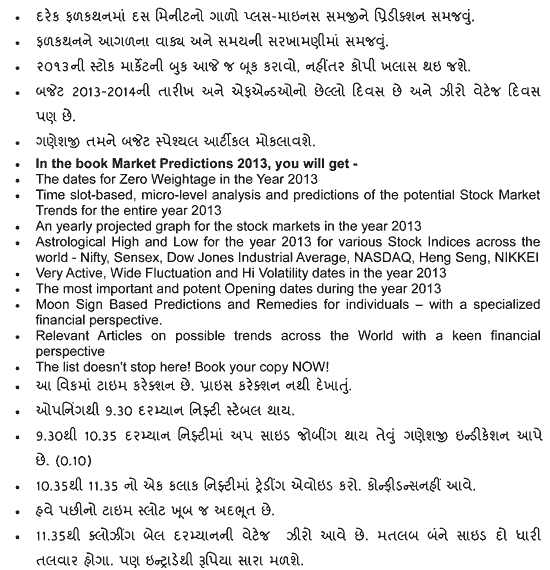 Hindi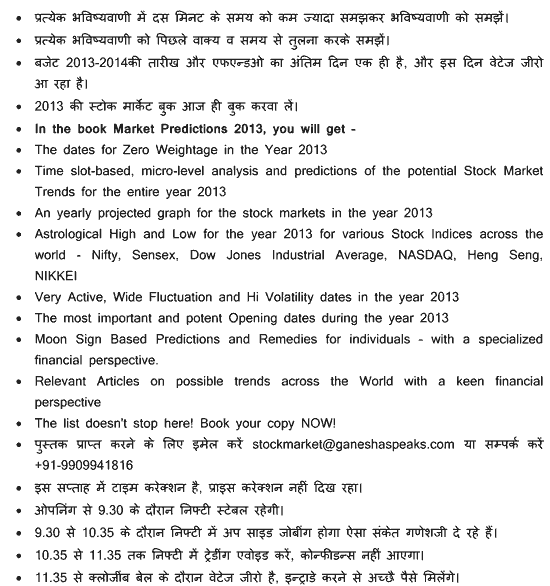 With Ganesha's Grace,
Dharmeshh Joshi,
09909941816
www.GaneshaSpeaks.com