Consider 10 minutes plus and minus in each prediction, and act accordingly.
Ganesha advises you to compare every prediction with the prediction of the previous time slot.
As the market will remain closed on 8th March, 2012 on the occasion of Holi, there are going to be only 4 trading sessions in the coming week.
It has been recently declared that the UP Elections' results may be announced on 6th March 2012. This event may have an effect on the market. However, Ganesha has given you the predictions and monthly graph already in advance, and it is entirely based on astrological calculations. Hence, keep in mind that the graph sent to you in advance is cent percent based on astrological positions, and not such events.
Friends, the opening of the next week is likely to be flat to positive, but the weightage for the day does not appear to be promising. Therefore, you are advised to consider the daily weightage before making any position, says Ganesha.
Please read the article Leap year – Adhik Maas, Astrology and Stock Market, so that you get an idea about how the year 2012 is likely to be.
From 9:15 to 10:05, Nifty is likely to create a mixed pattern, and may also maintain an upward movement.
Nifty is likely to be soft during 10:05 to 11:25.
Ganesha foresees that the planetary movements may be such that Nifty may change its trend every 30 minutes during the time period between 11:25 to 15:30. Therefore, Ganesha advises you to take the support of hedging, and for that you should consider the weightage given here in the bracket.
For detailed personalised prediction email us on stockmarket@ganeshaspeaks.com or call us on +91-9909941816

Gujarati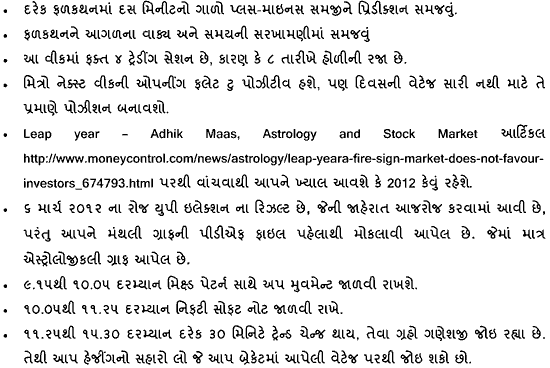 Hindi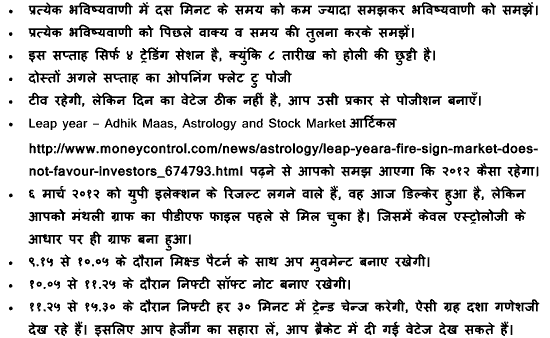 For further details, please contact customer care.
Telephone: 079 65221416
Mobile: +91 – 9909941816
Email: stockmarket@ganeshaspeaks.com