Consider 10 minutes plus and minus in each prediction, and act accordingly.
Ganesha advises you to compare every prediction with the prediction of the previous time slot.
Astrologically, every event is fixed but not many can foresee it correctly. For example, is it possible for anybody but Ganesha to foretell so many years in advance that a seller circuit may be applied between 03-01-2020 and 18-01-2020?
Friends, it is saddens Ganesha to tell you that the weightage for March – 2012 is zero and the weightage for 16-03-2012 is also zero. You know the history of any zero weightage period, so it is advisable that you order the PDF file for the month of March, as soon as possible.
Friends, please go through the entire PDF file, and only then decide as to why Ganesha has advised you to not do anything major during the week ahead. Besides, the opening and closing indices are all set to confuse you.
From 9:15 to 9:30, Nifty may remain flat to negative or hover around the surface.
From 9:30 to 10:10, a ray of hope can be seen at Nifty, foretells Ganesha.
Nifty may create a downward pattern during the time slot between 10:10 and 11:55. Take a reference from the global market trends as well during this time, suggests Ganesha.
The weightage for the period between 11:55 and 13:50 looks set to be -0.01, which means that it is likely to be a period when you would be back to square one.
From 13:50 to 14:30, expect a jump on the up-side at Nifty.
From 14:30 to 15:30, there may be some sort of panic in the market.
For detailed personalised prediction email us on stockmarket@ganeshaspeaks.com or call us on +91-9909941816
Gujarati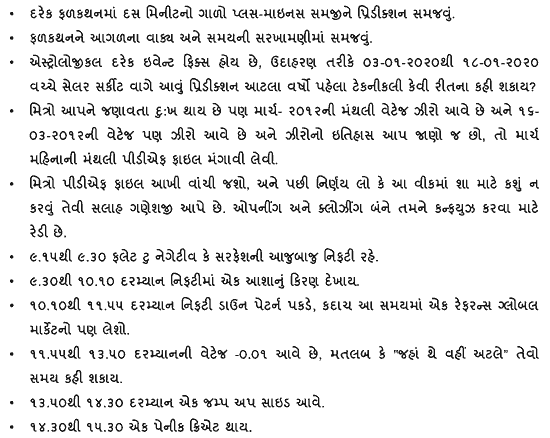 Hindi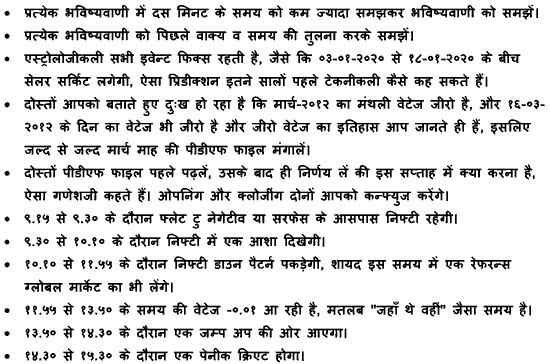 For further details, please contact customer care.
Telephone: 079 65221416
Mobile: +91 – 9909941816
Email: stockmarket@ganeshaspeaks.com