Consider 10 minutes plus and minus in each prediction, and act accordingly.
Ganesha advises you to compare every prediction with the prediction of the previous time slot.
Friends, if you have not received the July monthly file, ask for it now!
The special note in the July 2011 file will prove to be very helpful. Make sure you keep it in mind while you trade.
There is no clear trend, hence, if you be careful and use the prediction as a tool, you may minimise losses and maximise your profits.
Those who do intraday only need to pay attention to the day's average and the daily prediction and should square off their position. The trend will be your friend, says Ganesha.
Moon and Saturn are forming a Vish yoga, and both the planets are in the Kanya rashi.
Technical, Fundamental, Astrology- all do their own analysis. What you need to do is mix all three and develop your own opinion, as this will prove to be very helpful for you.
Along with the happiness of the monsoon, in the first 1 hour, you may also enjoy the buy-sell. But you are advised to keep a tight stop-loss and then gamble.
From 10:15 to 13:10- the weightage is zero. Thus, there is a possibility that you may come back to the same position.

For detailed personalised prediction email us on stockmarket@ganeshaspeaks.com or call us on +91-9909941816


Gujarati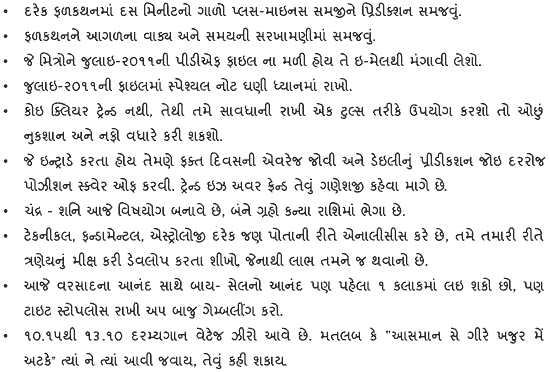 Hindi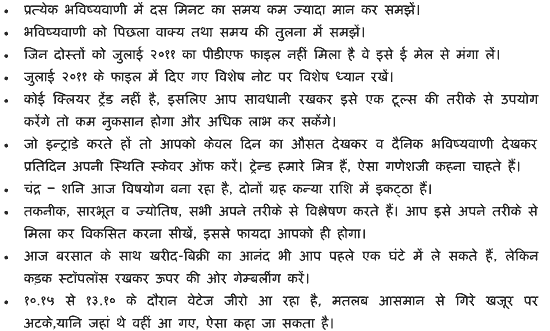 For further details, please contact customer care.
Telephone: 079 65221416
Mobile: +91 – 9909941816
Email: stockmarket@ganeshaspeaks.com