Consider 10 minutes plus and minus in each prediction, and act accordingly.
Ganesha advises you to compare every prediction with the prediction of the previous time slot.
The predictions that you refer to daily on our blog, are written one week in advance, and you receive it in the from of a PDF file.
Very active dates with wide fluctuations and high volatility for the month of April are: 13, 15, 21, 27
Ganesha advises you to take it easy this week. There is no need for buying during the week, says Ganesha.
Sun, Moon, Mercury, Jupiter, and Mars- all five planets are in the zodiac Pisces. And as Pisces is a water sign, your mind is likely to be unstable, just like water. Hence, Ganesha recommends- control your mind and then trade.
Today's date is 4, it is the 4th month of the year, and 2011 also totals to 4. According to Numerology, 4 is the number of Rahu. Hence, there are chances that you may be disillusioned.
On the occasion of Gudi Padva, it is a bank holiday and hence there will be settlement merge at the stock market. Hence, you are advised to ask your broker if you can sell tomorrow, the scrips you have bought today. Trade in BTST and PTST only after you confirm with them.
Ganesha wishes a Happy Gudi Padva to the Marathi fraternity and a Happy Cheti- Chand to the Sindhi fraternity. May you blessed by all the Planets, Nakshatras, and Dashas in the coming year.
The pre-opening period is likely to be negative but there is no need to worry.

For detailed personalised prediction email us on stockmarket@ganeshaspeaks.com or call us on +91-9909941816


Gujarati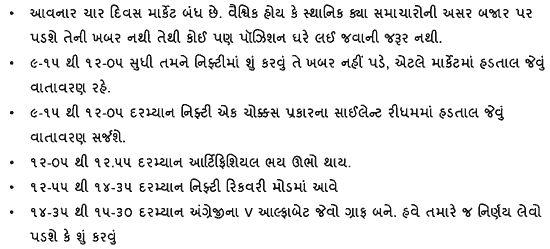 Hindi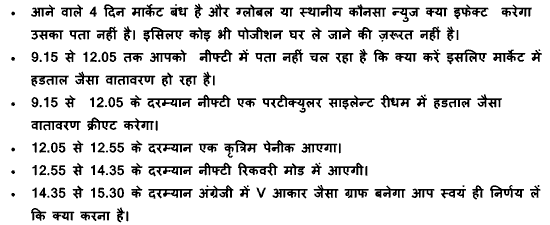 For further details, please contact customer care.
Telephone: 079 65221416
Mobile: +91 – 9909941816
Email: stockmarket@ganeshaspeaks.com