Consider 10 minutes plus and minus in each prediction, and act accordingly.
Ganesha advises you to compare every prediction with the prediction of the previous time slot.
In the last week's prediction, our astrologers had told you that "Ganesha says no to intraday this week. It may form a weak pattern every day. It may be a week full of gambling for arbitrage, mutual funds or FII. You must have observed the same, practically.
The predictions that you refer to daily on our blog, are written one week in advance, and you receive it in the from of PDF.
During this week, place your order for the graph of April. This will help you decide your position, well in advance.
Next Thursday will be the last Thursday of the F&O, reminds Ganesha.
Ever since the system of pre-open market has been put into practice, the pre-open has never been like today, and same will be the case for tomorrow. If the Nifty goes extremely down, do not panic; Ganesha is with you.
Today, Moon is in the zodiac sign of Scorpio and in the Anuradha Nakshatra.
9:15-10:10, Nifty will be weak.
10:10 to 13:30, Nifty may be highly fluctuating on both the sides. However, the heavy weight scrips may hold on to the market, volume and value wise.
10:10-13:30, with high fluctuation, Nifty will have strong movements on both the sides. However, heavy weight scrips will hold the market with volume and value.

For detailed personalised prediction email us on stockmarket@ganeshaspeaks.com or call us on +91-9909941816


Gujarati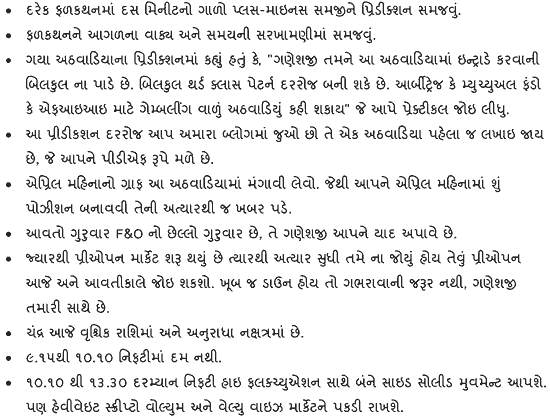 Hindi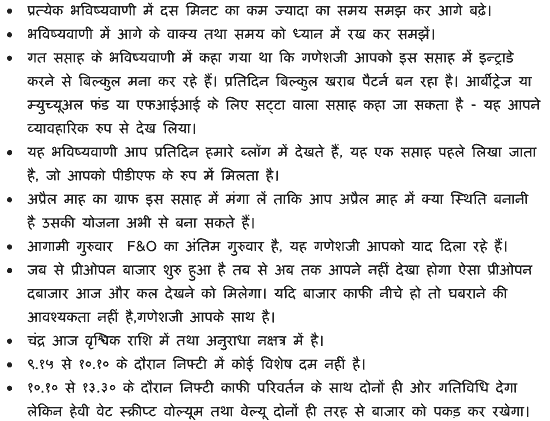 For further details, please contact customer care.
Telephone: 079 65221416
Mobile: +91 – 9909941816
Email: stockmarket@ganeshaspeaks.com
Or Visite our Website :- www.GaneshaSpeaks.Com