Consider 10 minutes plus and minus in each prediction, and act accordingly.
Ganesha advises you to compare every prediction with the prediction of the previous time slot.
As Ganesha had predicted, on Thursday the Market cracked by 209 points.
Ganesha's prediction of the Market reaching a Weekly High value of 5148 & a Weekly Low value of 4949 too has come true.
Ganesha had said, 'Friends, you must have received the September monthly predictions and must have noted the zero weightage for the month. Also, you must have taken note of the history of the zero weightage months. Thus, take a position accordingly and square off the position daily. Ganesha has been giving this advice since August; hope you are taking it seriously.' Now you know why Ganesha had told you so? This is the real strength of astrology.
Keep in mind that the next Thursday is the last Thursday of F & O. So we have just 9 useful days in hand.
In the next week, on 29th September, there will be a bailout on vote on account in Germany.
Moon is in the Moon sign Cancer.
Today Venus, Mercury, Saturn and Sun are in the same Moon sign. Moon and Mars are in combination.
Nifty will be at the same position at 14:51 as it would be at 12:17. Thus for all the intraday traders this time is boring, useless and should be avoided. There will also be absence of traders.
From 09:15 to 09:43- There may be a lot of fluctuation at Nifty. Nifty may make a graph resembling the electric waves.
From 09:43 to 10:11- There will be an increase in the upward movement at Nifty.
From 10:11 to 12:27- There may be pressure in the large cap scrips.
From 14:51 to 15:30- Ganesha feels that it will be a period when you just need to pass the time.
For detailed personalised prediction email us on stockmarket@ganeshaspeaks.com or call us on +91-9909941816
Gujarati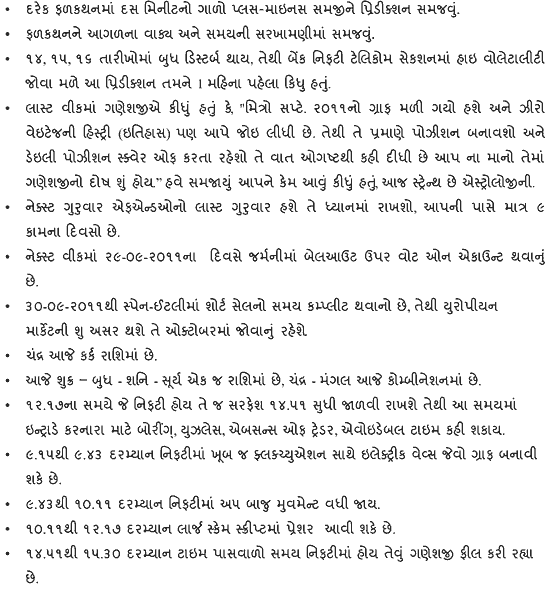 Hindi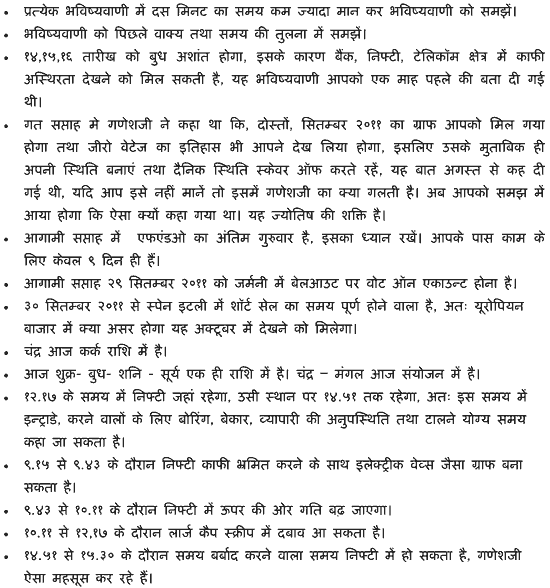 For further details, please contact customer care.
Telephone: 079 65221416
Mobile: +91 – 9909941816
Email: stockmarket@ganeshaspeaks.com