Consider 10 minutes plus and
minus in each prediction, and act accordingly.

Ganesha advises you to compare
the next prediction with the prediction of the previous time slot.
Read the
entire weeks prediction at one go and then take a decision, advises
Ganesha.

Ganesha
strictly advises you not to do F&O during this week. Try and
maintain a position of zero profit and loss.

Last week
Ganesha had forecast that INDIA VIX will remain at 24. If you have
been following regularly you will notice the accuracy. It remained
at 23.47.

Last week
Ganesha had forecast that the market will remain volatile till 13.00
hrs and had given you a graph. If you have the graph you can have a
look at it. This level of accuracy can be had only through
astrology.

It is a day
of fundamental Nifty based long term view. If you suffer blood
pressure, do not trade intraday. It is a day only for arbitrage.

9.15 to
11.00: Up – Down – Up this is how Nifty will behave.

11.00 to
12.35: During this time there is a possibility that the graph will
be exact reverse of the previous time.

Ganesha
blames to give you small time slots hence forth. If you do not enjoy
do not blame Ganesha and resort to fortune Mantra.

Today is a
time to square off trades fast. You may notice this in the time to
come.

15.00 to
15.15: Nifty will again go down.

15.15 to
15.30: Nifty will try weakly go up.

For detailed personalised prediction email us on stockmarket@ganeshaspeaks.com or call us on +91-9909941816


Gujarati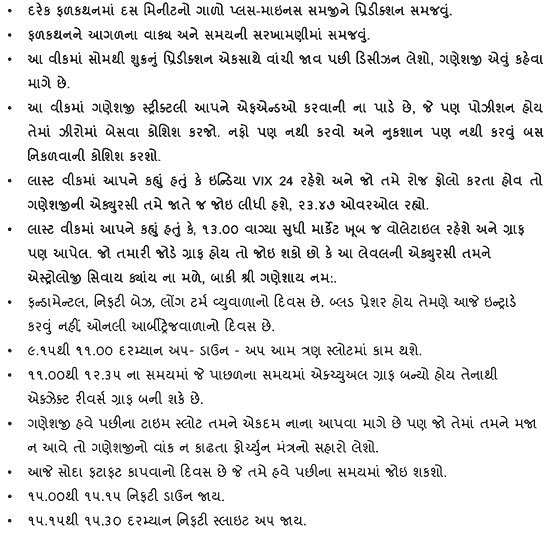 Hindi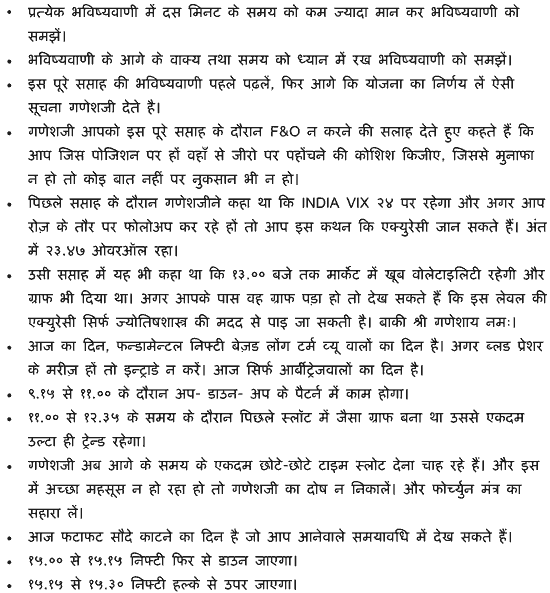 For further details, please contact customer care.
Telephone: 079 65221416
Mobile: +91 – 9909941816
Email: stockmarket@ganeshaspeaks.com