Consider 10 minutes plus and minus in each prediction, and act accordingly.
Ganesha advises you to compare every prediction with the prediction of the previous time slot.
The dull patch at the Nifty is likely to continue this week as well, predicts Ganesha. You will be going around in circles and most of your activities may not yield desired results.
From 17.11.2011, Nifty may form a doji (marginal closing), foresees Ganesha, a week in advance.
The Stock Markets across the world have been experiencing plenty of challenging situations in past few months. This is likely to continue in the days to come. The results are visible on Indian Stock Markets as well. For your reference, Ganesha gives you a bird's eye view of the reasons that may have lead to the present challenging situation.
The Index of Industrial Productions (IIP) came down to 1.9% in September 2011.
Italy has been facing a financial crisis.
A Global ratings firm- Moody's has downgraded banking rating of India from stable to negative. The executives of Moody's had a meeting with the Indian Finance Minister regarding this issue on 14 September, 2011.
The Corporate Quarter Results have not been encouraging.
Following are some special updates on planetary transits –
Mars is a planet which remains in one zodiac sign for 45 days. But, this time, Mars will be in the zodiac Leo for six months i.e. from 31.10.2011 to 21.06.2012. As a result, people with Moon sign Leo may become aggressive.
From 16.11.2011 onwards Saturn will be in the zodiac Libra. Thus, the inauspicious period (panoti) ends for the people with Moon sign Leo. However, if your Moon sign is Scorpio, you may have to face hardships for the next 7.5 years, as your inauspicious time (panoti) begins.
It's probable that the people with Moon sign Libra may be facing the negative impact of this Saturn transit, says Ganesha. There are remedies which may help them. Ganesha advises such people to remain patient. They should avoid taking up new challenges or risks at the moment.
However, Ganesha feels that from 17.11.2011 onwards, the overall yearly view is going to get better and positive with time.
Today, Moon is in Ardra constellation and the Lord of the constellation is Rahu.
The entire day seems weird and contradictory, as per Ganesha. The weightage for today does not look solid/ strong. However, the opening is likely to be around surface or on the up side.
From 10:03 to 10:51, Nifty may end up getting fixed and stagnant at a particular point. Therefore, there will not be much possibility for jobbing, as well.
From 10:51 to 11:15, there may be one bounce at Nifty, but the exact reliability of this short spurt of 24 minutes is difficult to predict completely, says Ganesha.
From 11:15 to 12:51, Nifty is likely to maintain its surface on the up side, foretells Ganesha.
From 12:51 to 14:40, Nifty may make you trade on the down-side, yet there will be an inherent strain that will allow you to do jobbing on the up-side. You can take cues from the weightage at that time.
From 14:40 to the closing bell, even though you may remain tense, Ganesha advises you to do jobbing on the up side, while being extra cautious, simultaneously. Make sure you don't make the mistake of making wrong transactions or trading wrongly, warns Ganesha.
Tomorrow, Saturn will enter the Moon sign Libra.
For detailed personalised prediction email us on stockmarket@ganeshaspeaks.com or call us on +91-9909941816

Gujarati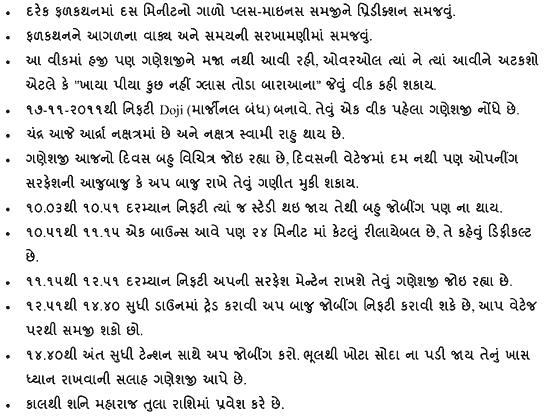 Hindi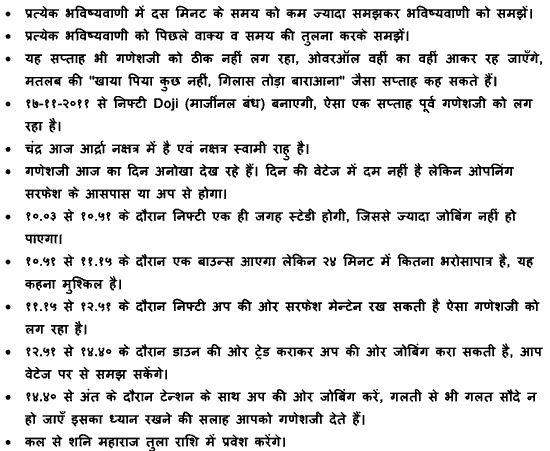 For further details, please contact customer care.
Telephone: 079 65221416
Mobile: +91 – 9909941816
Email: stockmarket@ganeshaspeaks.com