Consider 10 minutes plus and minus in each prediction, and act accordingly.
Ganesha advises you to compare every prediction with the prediction of the previous time slot.
Ganesha had not taken into account the Greek crisis, ECB rate cut, G-20 summit, rise in inflation, petrol prices and had still predicted the market trends quite accurately. You can check this with the Monthly PDF file, which had been sent to you a month ago.
The Market will remain closed for two days in this week- on November 7, 2011 on the occasion of Bakra Eid, and on November 10, 2011 on the occasion of Guru Nanak Jayanti. Therefore, it is not advisable to take risks during the only three trading days of the week.
First, read the predictions for this week at one go and take your decisions after November 7, 2011.
Today, Moon will transit into the Kritika constellation of the Moon sign Aries.
Saturn will enter the Moon sign Libra on 16.11.2011. Ganesha has already sent you the remedy for it in the monthly file. Kindly refer to that file.
Please go through the Monthly Report file for this month. Read carefully what Ganesha has predicted for today, and only then take a decision.
From 9:15 to 11:27, Nifty will pass the time by making you do jobbing on both the sides in a particular range.
Ganesha advises you to take a break from 11:27 to 11:39.
From 11:39 to 13:15, Nifty will make a pattern similar to that of the first time slot of the day. However, this time around, Nifty may go a little lower than that.
From 13:15 to 13:30, the weightage for this period is zero. So, no loss is equal to profit during this phase, believes Ganesha.
From 13:30 to 14:27, There's likely to be a very sensitive pattern at Nifty. Your efforts during this period may not yield expected results, foresees Ganesha.
From 14:27 to 15:51, Nifty will struggle really hard to gain stability.
From 14:51 to 15:30, there is likely to be a small bounce at Nifty. However, Ganesha is predicting about the last hour of the last trading day for the week, that too one week in advance. You can understand how difficult it is to predict the same.
For detailed personalised prediction email us on stockmarket@ganeshaspeaks.com or call us on +91-9909941816
Gujarati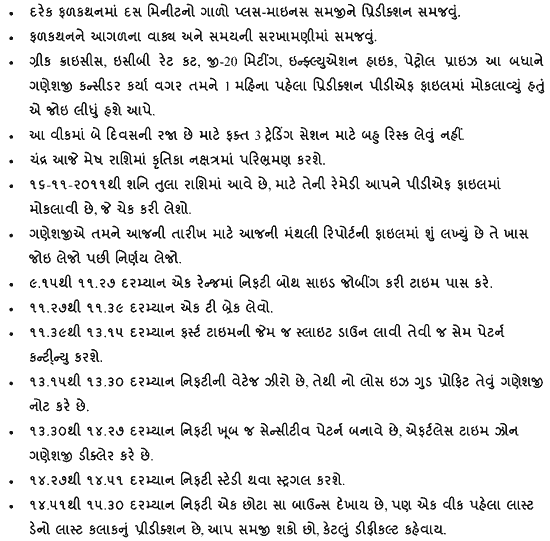 Hindi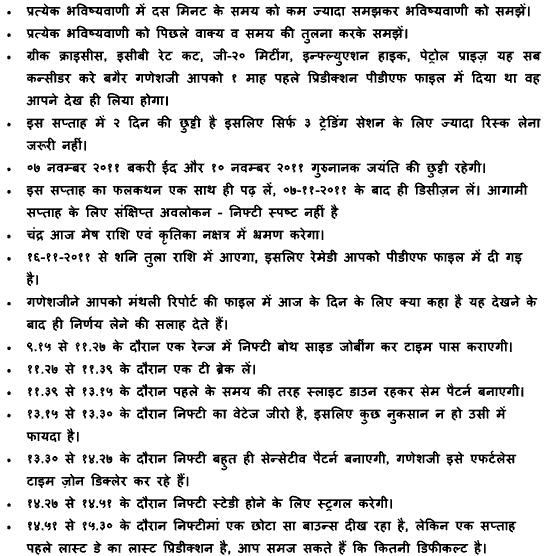 For further details, please contact customer care.
Telephone: 079 65221416
Mobile: +91 – 9909941816
Email: stockmarket@ganeshaspeaks.com