Sun, Moon, Saturn & Mercury will be in Virgo on 7th & 8th October. This is a major event & its impact is likely to affect you personally.
Few days in October are positive, while few of them are negative, thus do not rely on it.
In the past, when the monthly weight-age was zero, Nifty was: Jan 2008 = -1000, Oct 2008 = -1398, Oct 2009 = -362 & Feb 2010 = only 2. This is just for your reference. You are free to take your decisions without being biased or playing the blame game.
Volatile dates : 8, 13, 14, 15, 18, 20, 26, 28, 29.
Today onwards, we shall provide you 'Ganesha time' at which the market will be steady, and is likely to change the psychological pattern. Kindly give your feedback for the same.
From opening to 10:10, Nifty will show strength.
10:20 will be today's psychology time.
From 10:25 to 11:25, Nifty will be soft.
From 11:25 to 14:25, there will be a buying trend at Nifty.
From 14:25 till closing, Nifty may go upward.
Gujarati


Hindi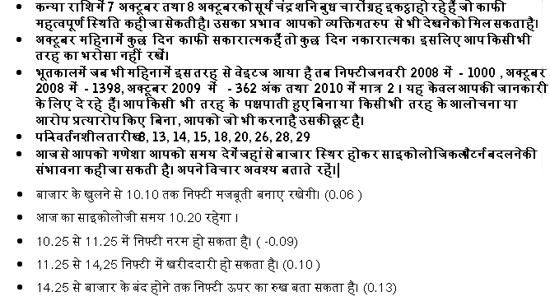 For further details, please contact customer care.
Telephone: 079 65221416
Mobile: +91 – 9909941816
Email: stockmarket@ganeshaspeaks.com