Intraday traders must square off their daily position only after referring to the daily predictions.
All those who take position on weekly or monthly basis, must take an overall view of monthly chart and daily predictions.
Long term investors, refer to the yearly graph and deal patiently.
Too many cooks spoil the broth – a mixture of all the tips (technical, fundamental & astrological) will only make things difficult & you may incur losses, says Ganesha.
No matter how good a dealer you are at the stock market, make sure you refer to your birth chart for the yogas in your main horoscope once & move ahead according to the planetary positions.
Don't risk a huge amount of money to earn a meagre profit.
All those born on 4th, 13th, 22nd and 31st should wear '8 mukhi + 10 mukhi rudraksh'.
People whose birthday falls on 5, 14 & 23 should wear '4 mukhi rudraksh'.
Till 10:55, Ganesha says, 'trend is our friend'. No fixed method is applicable.
From 10:55 to 13:15, in this time frame, Nifty may go down in the beginning and then go up step-by-step. It will create a graph similar to the image of electric current.
From 13:15 till closing bell, Nifty may go up, but with tension.
Gujarati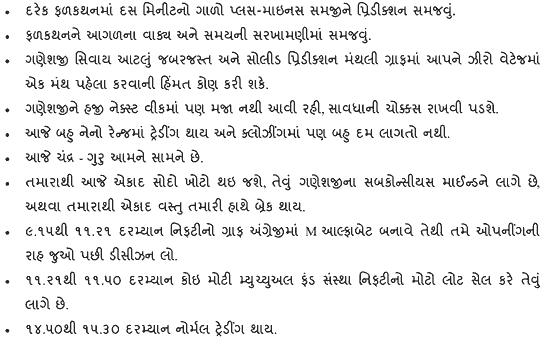 Hindi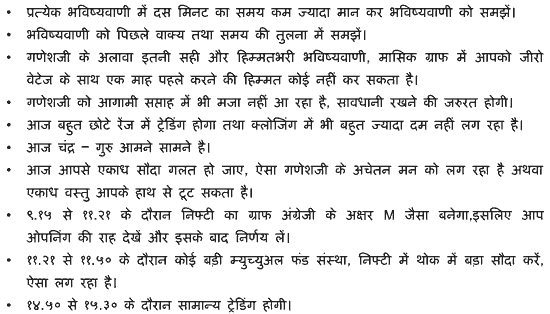 For further details, please contact customer care.
Telephone: 079 65221416
Mobile: +91 – 9909941816
Email: stockmarket@ganeshaspeaks.com