Ganesha wishes Eid Mubarak, Michhami Dukdam and Shri Ganeshay Namah to one and all.
During this week, Ganesha asks you to observe that in the time slot between 9:30 and 15:20, Nifty may be more on the upper side just for 15 minutes; while time slot around 12:45 may show a more downward trend. However, it's not confirmed.
Gradually, there may come a situation, which can create panic, foresees Ganesha.
According to Ganesha, October 2010 is not a favourable month. You may feel that Ganesha is helping you in making portfolios.
It's a day to use your intellect and all your tools and do trading in intraday.
From 9:05 to 11:05, the time seems direction-less.
From 11:05 to 13:00, Nifty may do timepass; there may be a buying trend in between, but it may not suit you.
From 13:00 to 14:10, there may be sound in technical and fundamental scrip.
From 14:10 to 15:30 there may be a short covering, but you are a better person to say by how many points. Ganesha can give time, cannot quote figures.
Gujarati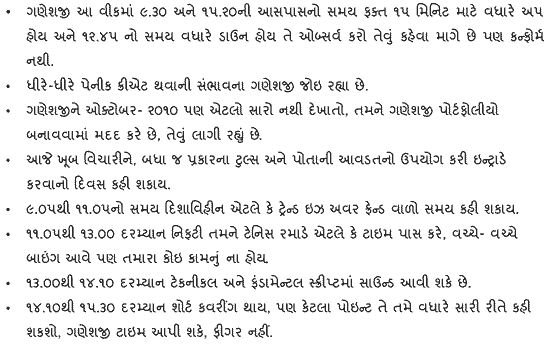 Hindi