10th April 2015 – Stockmarket and NIFTY Predictions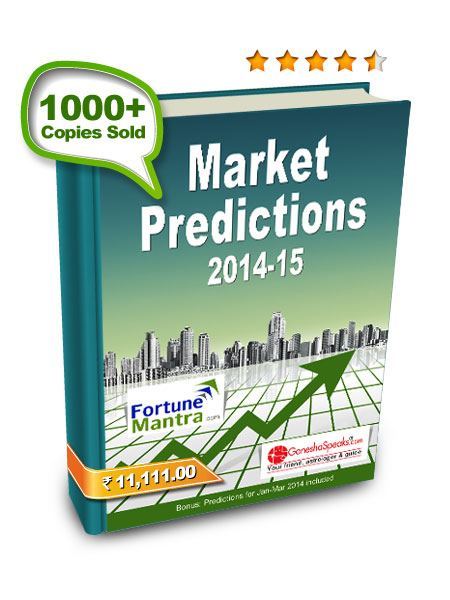 Please consider 10 minutes plus and minus in each prediction, and act accordingly.
Ganesha advises you to compare every prediction with the prediction of the previous time slot.
If you can proceed ahead with good delivery capacity or are ready to gamble, this is a good day, says Ganesha.
However, do proceed ahead today, after referring to the prediction for the opening period for the date of 13.04.2015, in the Market Predictions 2015-16 book.
The stock market will remain closed on 14.04.2015.
The Stock Market Prediction Book by GaneshaSpeaks for the financial year 2015-2016 has been released.
Friends once again you have witnessed Ganesha's accurate prediction, and the amazing effect of zero weightage day on 9th and 26th March 2015.
Friends, zero weightage may occur 14 times in the forthcoming financial year, which is already mentioned in advance in our Stock Market Prediction Book for 2015-2016.
Stock Market Tendencies of Capricorn
Nobody can touch the good old Goats (Capricorn), when it comes to ambitiousness and determination. Whatever you do, you do it to the hilt; half-hearted efforts are not your style. And, that is why you tend to have a good command over the market, its goings-on and the technical and fundamental information. Your portfolio may be decent, give your stable disposition and strength of thought. But, you are averse to taking too many risks, and you also tend to be a bit impatient. You stand firm on prices of the scrip, and are advised to get rid of this pushiness. Readiness to be a little more flexible and relaxed is needed from you, if you wish to reap bigger profits.
Stock Market Tendencies of Aquarius
Aquarius is the sign of intellectual interests. You tend to be quite knowledgeable, extra-careful and possess a strong sense of security. Every adventure you attempt is based on meticulous calculations, which is an excellent trait. This very distinctive quality of yours keeps you in a good stead when it comes to any type of financial dealings. You keep a tab on everything, and your eyes are open to smallest of the movements, which is another wonderful trait if you are into speculative dealing. However, you may feel that you are not supported well by anyone, and this might make you even more detached. Look inside first to find the reason behind other people's behaviour towards you, hints Ganesha. This year, a string of problems may also harass you, but you need to keep faith in Lord Ganesha and the supreme God.
Stock Market Tendencies of Pisces
Pisces natives are calm and have a calculated, practised approach in speculative dealings. Yours is a sign that is well-aligned with stock markets and speculations, as you tend to remain in a world of your own dreams. You are as heated as Parshuram and as intelligent as Chanakya in these dealings, therefore you are often good at getting desired results in your preferred scrips. However, on the downside you may be very trusting, emotional or careless. You may lose important opportunities because of your laziness or carelessness. Ganesha also advises you to control your emotions to get good results. Worrying won't help you either. Express your gratitude to Ganesha and carry on in your quest to success.
Plan your investments wisely and earn maximum profits! Order your copy of Market Predictions 2014-15 NOW!
Do you want to know which companies' shares and stocks would be best for you to trade in? Avail Stock Special 1 Month and know 4 scrips that you may trade in to earn maximum rewards. We will also tell you the preferable price points at which you should transact for each company. You may also directly Talk to An Astrologer for reliable guidance on issues related to your personal life, business, career, relationships, education, property matters etc.
With Ganesha's Grace,
Dharmeshh Joshi,
09909941816
www.GaneshaSpeaks.com