06th April 2015 – Stockmarket and NIFTY Predictions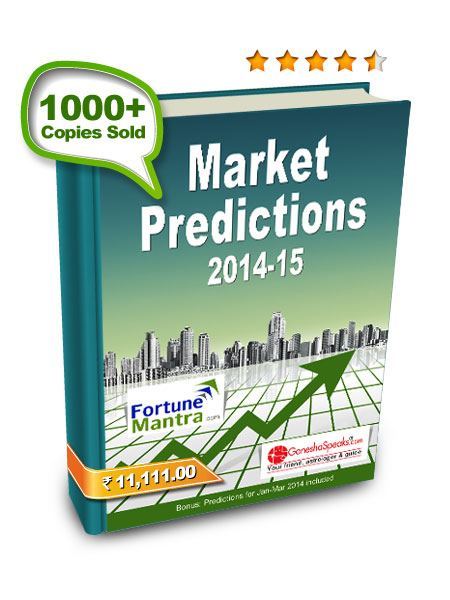 Please consider 10 minutes plus and minus in each prediction, and act accordingly.
Ganesha advises you to compare every prediction with the prediction of the previous time slot.
First of all, please carefully read the valuable 2015-16 Stock Market Predictions Book by GaneshaSpeaks.com, and prepare your strategy accordingly.
This file shall be highly useful for you, if you play Intraday. Also, do refer to the daily weightage of the monthly file.
The Stock Market Prediction Book by GaneshaSpeaks for the financial year 2015-2016 has been released.
Friends once again you have witnessed Ganesha's accurate prediction, and the amazing effect of zero weightage day on 9th and 26th March 2015.
Friends, zero weightage may occur 14 times in the forthcoming financial year, which is already mentioned in advance in our Stock Market Prediction Book for 2015-2016.
Stock Market Tendencies of Aries
Aries natives are hasty, and they may lose out on some important deals by being careless and rash. They also fail to share their problems with others at the right time. Owing to this they may suffer from fear and negativity. This hidden fear may sometimes force them to step back from important deals or take their money back from a profitable scrip. These people need to be careful, less trusting on others, communicative of their problems and prudent in their approach.
Stock Market Tendencies of Taurus
Progress and security are the motto of your life. A distinct quality of balance is visible in the different scrips you tend to acquire. No wonder your diverse and well-rounded portfolio becomes a cause of intrigue and jealousy for others. But, here's a catch. Given your fixed earth element, you can be very headstrong and stubborn. Over-confidence and arrogance never helped anyone. Not listening to others, even when they may be right is undesirable. Your anger is another reason people may feel scared of giving their advice to you. You may run into losses due to these negative traits. Follow the advice of Ganesha to overcome them, and nobody shall ever be able to beat you at anything.
Stock Market Tendencies of Gemini
Gemini natives by nature are changeable, and need variety on a regular basis. This is a very good trait as far as stock markets are concerned, as this ensures that you do not hang on to anything for too long, or are impersonal and unemotional about quick buying and selling decisions. By nature, you also tend to be shrewd enough at finding more and instant profit in the market, and at identifying the right scrip, which is technically sound. Yet, sometimes you too may commit an error of judgement. You can do the following remedies to ensure even more profit in stock markets.
Plan your investments wisely and earn maximum profits! Order your copy of Market Predictions 2014-15 NOW!
Do you want to know which companies' shares and stocks would be best for you to trade in? Avail Stock Special 1 Month and know 4 scrips that you may trade in to earn maximum rewards. We will also tell you the preferable price points at which you should transact for each company. You may also directly Talk to An Astrologer for reliable guidance on issues related to your personal life, business, career, relationships, education, property matters etc.
With Ganesha's Grace,
Dharmeshh Joshi,
09909941816
www.GaneshaSpeaks.com