Market (Sensex, Nifty) predictions for 19th August, 2009
Predictions for every phase should be considered only after comparing them to the predictions of the previous phase.
Take decisions only after going through the current and penultimate predictions thoroughly. This will help you maximise gains and minimise losses.
These predictions are written well in advance, so if you want to get stock predictions early, mail us at stockmarket@ganeshaspeaks.com.
Investors are advised to wait for a favourable phase. The month of September is favourable for traders. Ganesha advises you to follow the market lead.
For this week, don't cut any deals between 14:00 to 14:30.
In the past, Nifty has witnessed a significant rise (86 points) and fall (828 points), so don't trade aggressively. Apply your mind and trade accordingly.
Ganesha advises you to be alert, as the market may witness heavy fluctuations. Nifty may dip steeply and make you play a one-sided game.
From 9:55 to 10:55, Nifty may move upwards.  But Ganesha advises you to take wise and well thought out decisions.
From 10:55 to 12:55, you may be tempted to enter the market when the trend is upward. But, Ganesha advises you to trade cautiously, as Nifty may dip steeply. Moreover, Nifty may follow an upward trend the moment you take a downward position. Just watch the figures on your terminal, if you don't want to trade.
From 12:55 to 14:35, Nifty may move downwards. Ganesha advises you to trade as per your own understanding and knowledge.
From 14:35 to 15:05, Nifty may march upwards. Ganesha advises people born under Virgo to be alert after the month of September.
From 15:05 to 15:30, you will not be able to follow the market lead. However, in comparison to the previous phase, Nifty may witness selling pressure.
Gujarati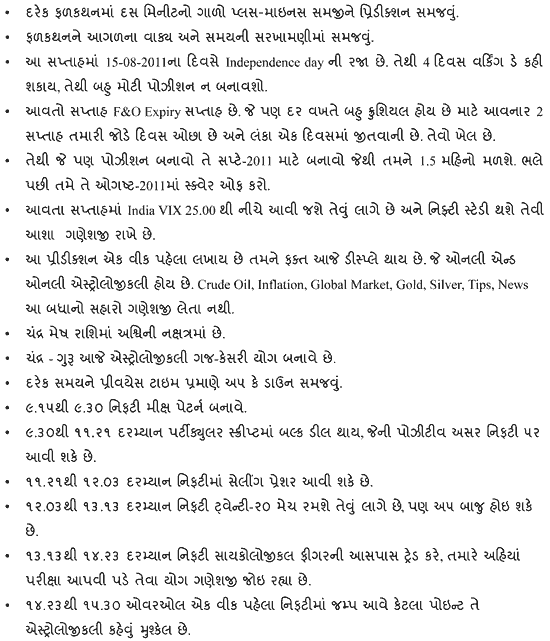 Hindi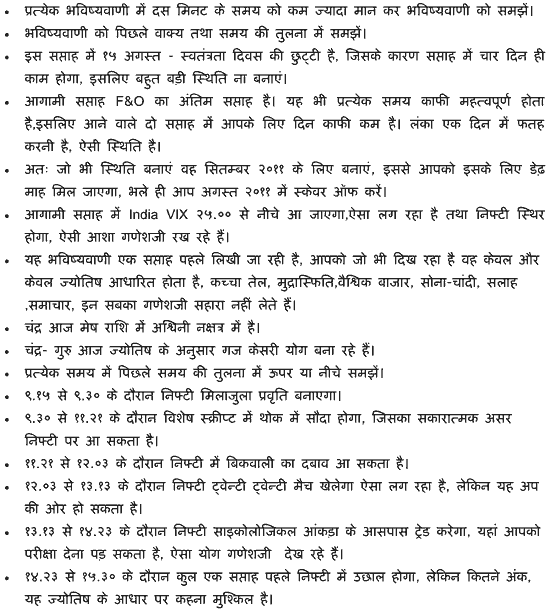 With Ganesha's Grace,
Dharmeshh Joshi,
09909941816
www.GaneshaSpeaks.com