Market (Sensex, Nifty) predictions for 01st January, 2009
From 09:55 to 10:50, Look for a way out, after the market opens, or else you may witness Nifty being washed out. However, the day average is positive so you can celebrate your new year with a positive mood, hopes Ganesha.
From 10:50 to 11:50, Nifty may witness less demands in its value and volume.
From 11:50 to 13:50, Nifty may tend to move upward initially and then downward and again upward. In other words, Nifty will form a 'W' shape graph. Trade at every intervals and book profits.
From 13:50 to 14:50, In comparison to the previous phase, Nifty may tend to move downward. Friends, you might have experienced that our predictions are not on the basis of the some international news report, market survey or the fluctuations in the prices of the crude oil or gold, even then they are accurate and written beforehand.
From 14:50 to the day end, Nifty may tend to catch a downward trend. However, the day average is positive. Keep this in mind, says Ganesha.
Gujarati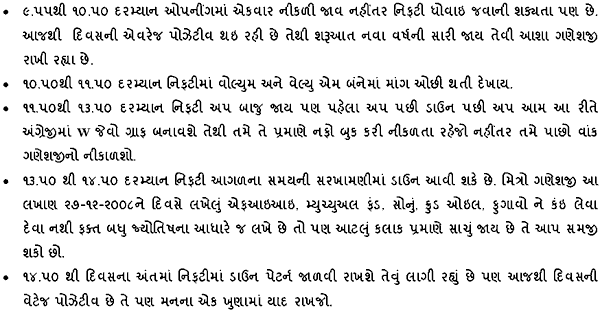 Hindi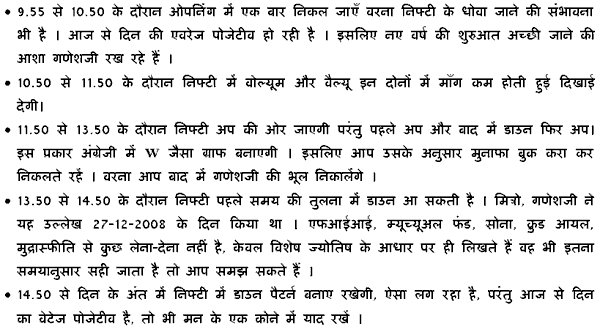 With Ganesha's Grace,
Dharmeshh Joshi,
09909941816
www.GaneshaSpeaks.com