For better understanding of our Nifty predictions for a given period, it is essential that you keep in mind the predictions given in the previous period.
These NIFTY predictions are given by our Astrologers a week in advance. They still maintain a very good level of accuracy. It is advisable to use them judiciously.
Last week, Ganesha advised you to avoid trading in BTST and PTST stocks. Now you know why he advised you against it.
Intraday trading on 27th May 2010 will be risky, but for arbitragers, the day will be favourable.
If possible, avoid investing in realty stocks in the period between 26th May 2010 and 21st June 2010, and 1st November 2010 and 30th December 2010, as there is a possibility of an earthquake in Asia.
Today, the moon will enter the 1st charan of Jeshtha Constellation from the 4th charan of Anuradha constellation, and Mars is entering the Magha constellation. This may hamper market performance.
During the period between 9:00 and 11:45, the market will display substantial changes in the put – call ratio. So your trading should be stock-specific.
Nifty is likely to go up in the period between 11:45 and 13:00.
Nifty is likely to go south in between 13:00 and 13:45.
Nifty is likely to rise between 13:45 and 14:30.
Nifty is likely to go down in the period between 14:30 and 15:00.
Nifty is likely to go north in the period between 15:00 and 15:30.
Gujarati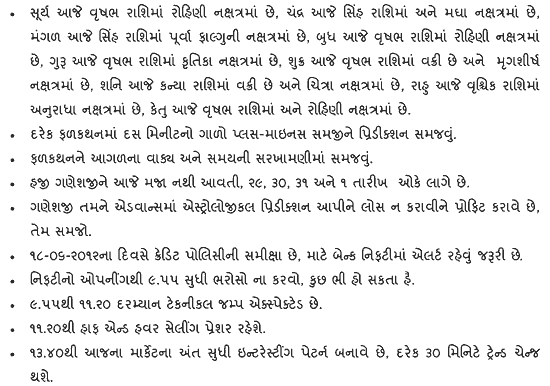 Hindi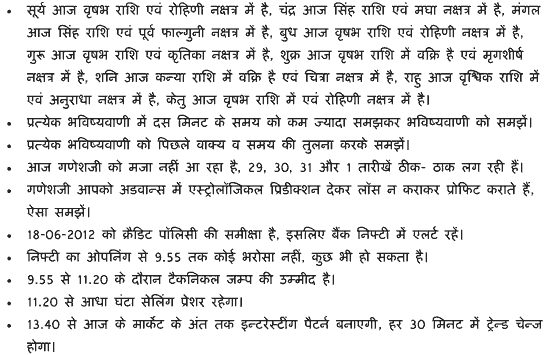 For further details, please contact customer care. Telephone: 079 65221416
Mobile: +91 – 9909941816

Email: stockmarket@ganeshaspeaks.com