These NIFTY predictions are made by our astrologers a week in advance. In these predictions, technical, fundamental, foreign market, crude oil, gold, inflation are avoided. It is advisable that you wisely use these predictions as a tool.
Ganesha advises you to compare the next prediction with the prediction of the previous time slot.
In each given prediction, the time may vary by ten minutes on either sides.
According to Ganesha, investors should refer to the yearly graph, traders should refer to the monthly and daily graph, and intraday traders should follow their fortune mantra along with the daily graph.
The month of August is astrologically crucial as far as Nifty is concerned as Venus in Virgo is a sign of debilitation and Jupiter is retrograde in Pisces.
To bring wealth and prosperity in your life, offer food to the poor on every Friday and offer jaggery to a cow on every Sunday.
Till 11.30, Nifty may remain in a particular territory.
From 11:30 to 12:30, you may take a call with high risk for intraday.
From 12:30 to 14:10, For intraday, along with high risk Nifty may take the put option.
From 14:10 till the market closes, it's a time slot with lots of highs and lows; stay in front of the television.
Gujarati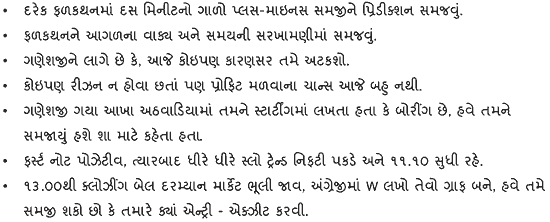 Hindi




For further details, please contact customer care. Telephone: 079 65221416
Mobile: +91 – 9909941816

Email: stockmarket@ganeshaspeaks.com