Market Sensex – Nifty Predictions, Sensex Nifty, 2010 Market Sensex for 16th February, 2010
For better understanding of our Nifty predictions for a given period, it is essential that you keep in mind the predictions given in the previous period, says Ganesha.
For every prediction, expect a variation of 10 minutes.
The days in February when Nifty will be particularly active and volatile are: February 9, 10, 17, 22 and 25.
The days in March when Nifty will be particularly active and volatile are: March 9, 10, 11, 17, 22 and 23.
This week, the weightage for February 17, 2010 is zero. However, Ganesha advises you to be cautious throughout the week. Around February 17, something terrible is likely to happen somewhere in Asia. Don't say that Ganesha didn't warn you.
9:10 to 10:30- Nifty will start on a positive note only to drop suddenly and catching you off guard. You are advised to keep on exiting at frequent intervals.
10:30 to 12:50- This is an utterly uneventful period for Ganesha. Trade at the market only to stop loss.
12:50 to 13:25- During this brief 35-minute period, Nifty can turn into a gold mine for you. There is a possibility of short covering, but the period is too short to translate good fortune into a blessing.
13:25 to 14:30- Nifty's overall strength may dip.
14:30 to 15:30- Nifty will first make you play on the upside, and then suddenly you will be forced to do jobbing in the downward direction. Ganesha's advise: Keep on exiting the deals on every possible opportunity.
Gujarati


Hindi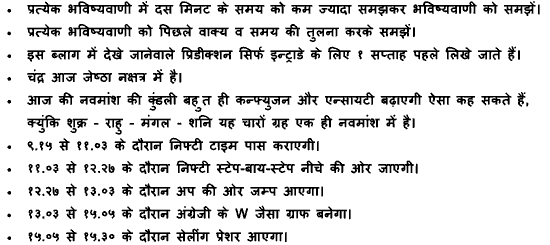 With Ganesha's Grace,
Dharmeshh Joshi,
09909941816
www.GaneshaSpeaks.com