Sun in the eighth house : Vedic Astrology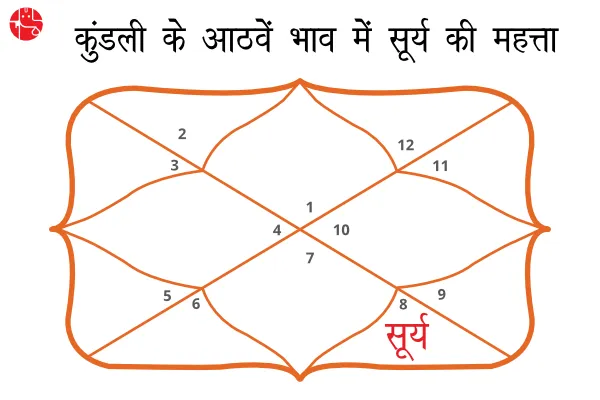 Longevity and unforeseen events are actually two very important factors in a person's life. In astrology, the house that determines the development related to these factors is the eighth house. By the way, in Vedic astrology, the eighth house is also responsible for death, longevity and sudden events. It can be natural, peaceful, accident by water or fire, suicide, violent or due to chronic disease. It is said that if Sun is in the eighth house, then the life span is generally short. But still, preventive measures can change the situation.
How Will Your Future Turn Out? Get Free Janampatri With Personalise Prediction Report
---
Areas affected by Sun in the eighth house
wisdom
public image
love and relationship
social life
health and wellness
Find Out Free Remedy Suggestion That Can Help To Solve Your Personal Problems
---
Positive symptoms/effects
The natives of the presence of Sun in the eighth house of the horoscope give quick response to sudden and difficult situations. They are able to control any situation very effectively. Also, they have the ability to say the right thing at the right time. This shows their quality of being an efficient manager in the uncertainties and unpredictability of life. That is why such people can manage the uncertainties of life so well that they always feel fresh and mentally enriched. People with Sun in the eighth house are not interested in the monotony of everyday life. They want to proceed with clarity, and get to the root of the matter. They like to do something new all the time and do not want to repeat them. They are always dynamic and active. Also, such natives try to strengthen their inner will and determination, and succeed in that. Which can enable them to achieve new heights in career or business. All their hopes and wishes are likely to be fulfilled. As a result, they are able to control their life and destiny in a much better way. According to Vedic astrologers, due to the position of Sun in the eighth house of the horoscope, they are less affected by the conditions around them, and are more focused in fulfilling their goals and objectives. Get your detailed 2023 Annual Report and plan your goals better. There is only one place where they feel most uncomfortable and that is the bedroom. That too because they expose their entire physical intimacy to their partner. In fact the physical intimacy they share with their partner turns into a spiritual practice.
Also Read – Importance of Sun in seventh house of horoscope
---
Negative symptoms/effects
When it comes to married life, it is very difficult to satisfy the life partner due to the position of Sun in the eighth house. They are not really emotional or at least do not express their feelings easily. They keep many of their feelings inside themselves, not revealing them to others. They don't trust anyone easily. First they test the person on some parameters. Then if that person is liked by them with heart and soul, then only they accept him as their close friend or friend and share their secrets with them. Due to Sun being placed in the eighth house, this excessive emphasis on testing people takes a toll on the personality of the native. Others like them less. They may also be suspicious of them. This can affect their public image. Also, the placement of Sun in the 8th house makes the native highly sensitive. They get angry very quickly. There are many things that he should not take personally. Otherwise, due to Sun being in the eighth house of the horoscope, they may end friendship with people from whom they can learn a lot about life.
---
Conclusion
The natives having presence of Sun in the 8th house are very efficient in handling situations. However, they should be less sensitive and more sociable. Otherwise they may miss out on making some good friends or fail to live life to the fullest. To get your personalized solution, Talk to an Astrologer Expert Now!
With the blessings of Ganesha,
ganeshaspeaks team
---
---