Sun and Saturn Conjunction in First House/Ascendent : Vedic Astrology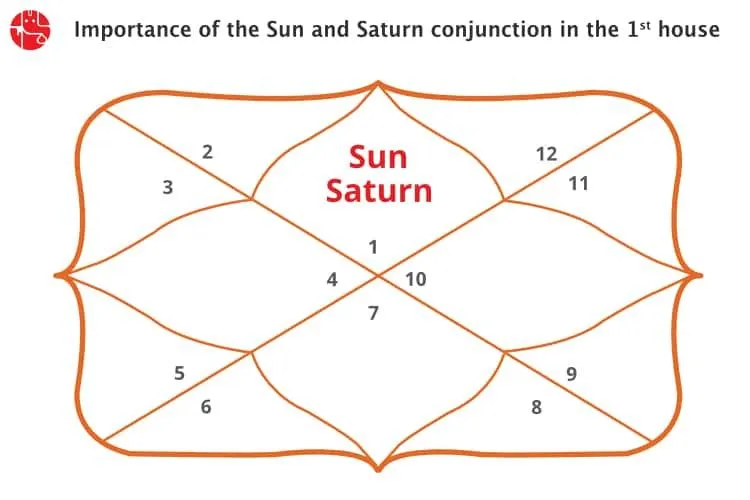 Well, the conjunction of Sun and Saturn is one of the most dreaded combinations in Vedic astrology. Sun and Saturn are bitter enemies of each other. In general, it is a bad combination for the native. Sun is the king of the planetary kingdom. It represents our soul. It gives us honour, recognition, power, and authority. On the other hand, Saturn stands for discipline, hard work, structure, and so on. As they are enemies, they tend to nullify each other's good points. And in this scuffle, Sun suffers more than Saturn. Thus, those who are born in Sun-Saturn conjunct may face problems in career. Those who have this planetary combination may face a strained relationship with their father or son. Also, the native is likely to be underconfident. Sun is full of fire, and Saturn is cold and humid, so it's a very unusual combination which causes more demerits and fewer merits.
---
The Areas Affected Due to Sun-Saturn Conjunction in the 1st House:
Relationship and bonding
Attitude towards life
Professional performance
Educational aptitude
---
Positive Traits/Impact:
The Sun and Saturn conjunction can bring success despite the delay. It enables the person to evolve, and such a native is mostly a self-made individual. They mature well and are alert about their responsibilities. The natives of Sun-Saturn conjunct may have enemies, but they tend to be popular amongst the masses. The native may become spiritually inclined and also righteous. The logic is that they have to pass the test of karma; if they are able to do it, they can do well in life.
The natives of Sun conjunct Saturn in 1st House will be good in the subjects of Chemistry and Metallurgy. They can even do well in certain branches of engineering. The combined impact of Sun and Saturn enables them to do well in certain types of academics and professions.
---
Negative Traits/Impact:
Satun is the son of Sun. And they have shared a very uneasy relationship. It is quite unusual for a father and son to have such a hostile relationship. But this very much holds true in the case of Sun and Saturn. It is believed that in such a planetary combination, either the father or son is able to progress in life. While one of them makes progress, the other suffers. If the father makes progress, the son will be the loser, and if the son makes rises higher, the father will be the loser. This leads to conflicts. This happening has repercussions in other areas of life as well, as per Sun Saturn conjunction Vedic astrology.
This planetary combination can negatively impact one's marital life and conjugal happiness. And the reason for this is, the energy orientation of both the planets is entirely different. While Sun is the centre of the human universe, a force that gives and sustains life, a masculine planet which symbolises vitality, Saturn is, on the other hand, a (gender) neutral planet that stands for misery and suffering.
If Sun is afflicted in this conjunction, Sun will make the person indecisive, with low self-esteem and vitality. The person may get gloomy and depressed, and his/her mind may get filled with fears and confusion.
---
Conclusion:
Thus, we see how critical this planetary placement can be. As the two planets (Sun and Saturn) are mutually antagonistic, so it can create formidable problems and difficulties in life. However, that does not mean it is the dead end. In every challenge, there is an opportunity. And so it is in Sun-Saturn conjunct. The difficulties which arise will make us learn and grow if we take it with the right attitude.
With Ganesha's Grace,
The GaneshaSpeaks Team
---
---
Get 100% Cashback On First Consultation