Navratri Vrat Parana –  Breaking the 9-Day Long Navratri Fast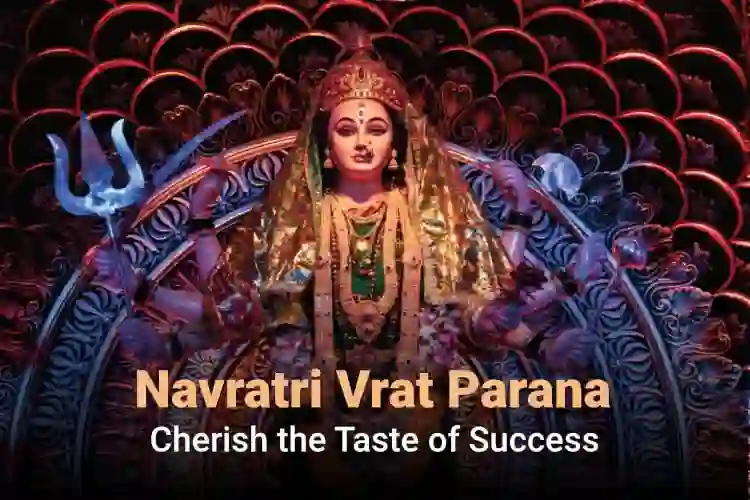 Navratri is one of the most auspicious and significant festivals for the Hindu religion. Navaratri is a nine-day festival that is celebrated with great zeal and dedication. These days also include puja and celebrations, as well as fasting or observing Vrat for the entire 9 days. In a  year, there are a total of four Navratri, however, only two of them i.e Sharad Navratri and Chaitra Navratri are the most popular.
Devotees believe that during Navratri, Maa Durga will visit them in one of her nine incarnations and bestow courage, prosperity, joy and happiness. Fasting is thought to be both beneficial and auspicious, according to traditional beliefs. The one who observes this fast can take pure and Satvik food as it is extremely good for your health and also spiritual. The festival for Navami tithi devotees ends with a Kanya puja and by doing hawan. The last puja of Navaratri is Paran, during which devotees are given proper food and their fast is completed.
Hindu devotees fast during the Navratri, which is one of their most famous and important rituals. Navratri Parana marks the end of the nine-day Navratri fast. On Ashtami, the eighth day of the fast, the devotees break their fast. They perform Kanya Pujan and offer prayers to Goddess Mahagauri. Let's gain a deeper understanding of Navratri Parana, its significance, important timings and special rituals:
Significance of Navratri Vrat Parana
According to Hindu mythology, the war between Goddess Durga and Mahishasur, who was a powerful demon, is said to have lasted nine days. Mahishasur was defeated and killed at the end of the battle. As a result, the ninth day of the Navratri festival has come to be widely known as a victory of good over evil. Maa Durga defeated the demon Mahisasur with her strength, power, and wisdom on this day. As a result, Navratri Parana is considered the day on which new beginnings can be made. Devotees worship Goddess Durga with full devotion and enthusiasm to get the divine blessings and protect them from negative energies.
Perform Personalised Durga Puja on Navratri. Avail Free Puja Consultation!
Navratri Parana 2022 Date and Timings
Out of four Navratris, only two are most famous, that is Chaitra Navratri which falls in the month of March or April and another is Sharad Navratri which falls in the month of October or November.
Chaitra Navratri Parana is performed on the Dashami Tithi of Chaitra Shukla Paksha. The nine-day Chaitra Navratri festival comes to an end on this day.
Ashwina Navratri Parana 2022 Date:  Oct 4, 2022
Navami Tithi Begins – 
04:37 

PM

 

on

 Oct 03, 2022
Navami Tithi Ends – 
02:20 

PM

 

on

 Oct 04, 2022
What do your birthdate and time say about your life? Reveal it with your Free Personalised Janampatri!
Rituals of Navratri Vrat Parana
Navratri pooja begins with Ghatasthapana. During the Navratri festival, special attention is paid to the beginning and Parana. It is believed that if the Navratri fast is not observed properly, the full benefits of worship will not be realised. As a result, the Navratri Vrat Paran has been given more importance. According to tradition, the Chaitra Navratri fast is observed after the end of the Paran Navami Tithi and at the start of the Dashami Tithi. The passage of Chaitra Navratri should be performed at the end of Navami Tithi, according to the Indus Granth. Kanya Puja is the special ritual for Navratri Vrat Parana. Here is the Kanya Puja vidhi:
You must invite nine little girls and a little boy to your home to perform the Puja
The nine girls represent Durga's nine forms, and the small boy represents Bhairon.
When they come to your house, wash their feet with clean water and gently wipe them down with a clean cloth.
Apply a tilak to the Nava Kanyas' and the little boy's foreheads and pour akshat over them which is a mixture of raw rice and turmeric. After that, do the aarti.
After that, feed the Nava Kanyas and the little boy by offering the bhog as Naiveidhya to the Goddess in a temple or at home.
Young girls and the little boy are served with delicious dishes like puri, halwa, Kheer and chickpeas during this Puja.
After the children have finished their bhog, give the little girls fruits, supari, paan, haldi, shringar items, a red chunri, coconut, kumkum, and Dakshina. Other things can be offered to the young boy except for the chunari and the shringar items.
Touch their feet before they leave to seek their blessings.
In some families, Navratri fasting is observed on just two days of the festival that is mainly on the first and eighth day of Navratri.
As a result, the fasting for the Navratri Festival ends on Maha Ashtami or Maha Navami with Navratri Parana.
There are many different viewpoints for Navratri Parana, as some devotees believe that Paran should be performed after the puja of Maa Mahagauri in Ashtami after Kanya pujan, while others believe that Paran should be performed after the worship of Maa Siddhidatri.
Closing Up
It is believed that if devotees worship Goddess Durga without expecting anything in return, their desires are fulfilled and they attain salvation. Hence, worship Goddess Durga, the Goddess of cosmic powers, during this time to be blessed by her divine benediction.
Attract Good Luck With Your Personalised Horoscope On The Auspicious Day Of Navratri Parana! – Talk To Expert Astrologer Now!
With Ganesha's Grace,
The GaneshaSpeaks.com Team
Astrologers trained by Shri Bejan Daruwalla.