Narak Chaturdashi 2023: The Day To Get Blessings Of Krishna, Kali and Satyabhama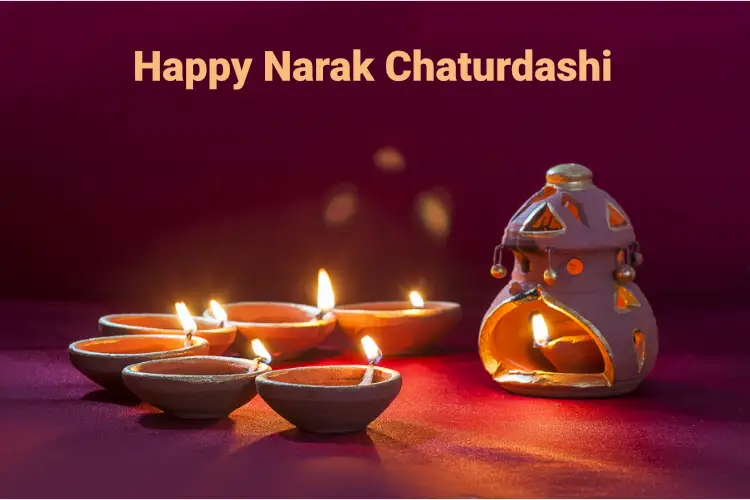 The important Hindu festival held before Diwali is Narak Chaturdashi, which is celebrated all over India. It's also known as "Choti Diwali'. It is a festival devoted to the Lord of Death who is known in Hindu mythology as "Yamraj." It is also the day when Krishna, Kali and Satyabhama's trio killed the King of the demon named Narakasura. This special day is associated with many religious rituals, beliefs and festivals.
Roop Chaudas, Bhoot Chaturdashi, Narak Nivaran Chaturdashi, Choti Diwali, and so on are some of the other names for Narak Chaturdashi. Despite the fact that both Kali Chaudas and Narak Chaturdashi fall on the same day, they are two separate observances. Let's have a look at the significance, rituals, celebrations and timings of Narak Chaturdashi:
---
Narak Nivaran Chaturdashi 2023 Date and Timings
According to the Hindu calendar, it is celebrated on Chaturdashi tithi, or the fourteenth day of the Krishna Paksha, in the month of Kartik. As per the Gregorian calendar, it takes place in the months of October or November.
Narak Chaturdashi 2023 Date: November 12, 2023
Abhyang Snan Muhurat: 05:28 AM to 06:41 AM
Moonrise at Abhyang Snan: 05:28 AM
Tithi Timings:
Chaturdashi Tithi Begins: 01:57 PM on November 11, 2023
Chaturdashi Tithi Ends: 02:44 PM on November 12, 2023
Know the secrets behind your birth date and time with your Free Personalised Janampatri!
---
Significance Of Narak Chaturdashi:
People worship Goddess Kali on this auspicious day in order to remove negative forces or the impact of evil souls from their lives. Worshipping Maa Kali on Narak Chaturdashi can help you get rid of ghosts, evil spirits, and negative forces from your home. By performing Puja in the home, you can remove the presence of negative forces in your life. Many Hindus perform Abhyanga Snan on this day to cleanse themselves of their sins. People who perform Abhyanga Snan on this day are said to be able to avoid going to Narak. Narak Chaturdashi honours Lord Krishna and Satyabhama's victory over the demon Narakasura.
Book Personalised Puja, performed by experienced Pandits. Get Online Puja Consultation.
---
Narak Chaturdashi Celebration
Narak Chaturdashi is a part of Diwali, the grand festival of lights, and is celebrated with zeal and dedication across the country. People in Northern India celebrate Narak Chaturdashi by dressing neatly, performing Goddess Kali's Puja, and lighting crackers at night. In the eastern part of the country, this day is known as 'Bhoot Chaturdashi'. People in Rajasthan, Gujarat, and Maharashtra have a different name for Narak Chaturdashi: 'Kali Chaudas'. On this day, people generally place a pot covered in red cloth on a crossroad.
---
Rituals On Narak Chaturdashi
The early morning bath is the most important ritual performed on Narak Chaturdashi day. People get up early in the morning, before sunrise, and apply an 'Ubtan' scrub before taking a bath. This scrub contains a variety of ingredients, including til oil, herbs, flowers, and other important components. This ritual is known as Abhyanga Snan. One should wear new clothes after taking a bath. It is said that those who do not perform this ritual will go to hell. By using kajal, one can protect themselves from the 'Kali Nazar,' or evil eye.
On Naraka Chaturdashi, people use Diyas and lamps to decorate their homes in the same way that they do for Diwali. The entire family gathers to honour Goddess Lakshmi. A variety of offerings and special prayers are made to the Goddess in order to obtain Her divine blessings. Family members, children and other relatives burst crackers after doing the puja.
Several worshippers also observe fast on this day, they worship Goddess Lakshmi and Lord Kuber with complete devotion and break their fast after all puja rituals are completed.
Lord Hanuman is honoured with a special puja on this day. Flowers, oil, and sandalwood are used to honour the Lord. Rice flakes, sesame seeds, and jaggery and coconut are used to make a special 'Prasad' that is offered to the Lord. Several delicacies made from hand-pounded rice are served on the day of Naraka Chaturdashi. Freshly harvested rice is used in these dishes. Western India's urban and rural areas are more influenced by this tradition.
They pay visits to their native places' family temples, particularly to Kula Devi, the mother goddess. On this day, in some parts of India, food is also offered to the forefathers.
---
Narak Chaturdashi Story
The festival of Narak Chaturdashi gets its name from the demon Naraksura, according to mythology. Naraksura was the son of Bhudevi and Lord Varaha, who was an avatar of Lord Vishnu. Naraksura, on the other hand, was greedy and unfair. He also has a massive benefit from Lord Brahma that no one should kill him except his mother Bhudevi. After attacking Lord Krishna, Lord Krishna's consort Sathyabhama was the one who killed Naraksura. Satyabhama was thought to be Bhudevi's incarnation. Naraksura begged one boon from Satyabhama before his death, asking her to make him immortal in the minds of people, and thus the festival of Narak Chaturdashi is celebrated by lighting lamps to commemorate Naraksura's death.
Lord Krishna is said to have killed Naraksura, according to another mythology. Naraksura kidnapped 16,000 girls, but Lord Krishna saved them all by killing him. The rescued were thought to be afraid of social rejection and embarrassment, so Lord Krishna and his wife made the decision that he would marry them all so that they could be known as his wives.
---
Happy Naraka Chaturdashi
May Almighty bless you with all the courage to win over your problems like Lord Krishna, Maa Kali and Satyabhama won over Narakasur. We wish Happy Naraka Chaturdashi to all!
Attract Good Luck With Your Personalised Horoscope On The Auspicious Day Of Narak Chaturdashi! – First Consultation with 100% Cashback! Talk To Expert Astrologer Now!
With Ganesha's Grace,
The GaneshaSpeaks.com Team
Astrologers trained by Shri Bejan Daruwalla.
---
---
Get 100% Cashback On First Consultation