Gujarati New Year or Bestu Varas: Dates, Significance, & Rituals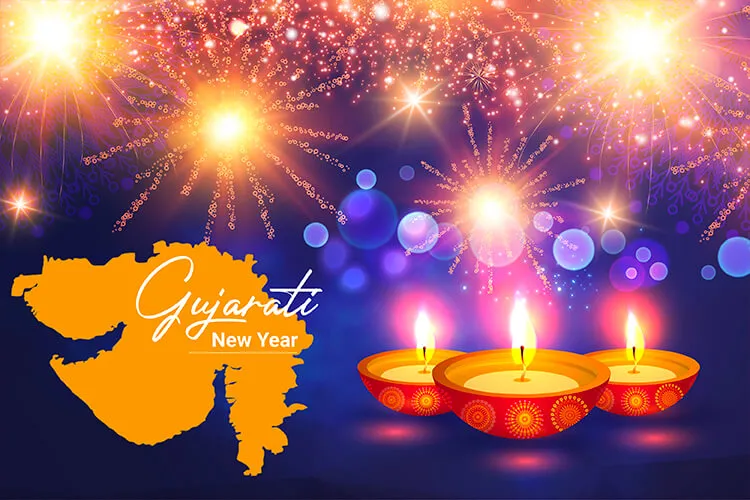 In 2023, the Gujarati New Year falls on Tuesday, Nov 14. The day is celebrated with immense joy, happiness, and enthusiasm across the state of Gujarat, as it marks the beginning of the new year for Gujarati people. New Vikram Samvat year in Hindu Calendar starts on Shukla Paksha Pratipada during the month of Chaitra, which is when Guddi Padwa and Ugadi are celebrated.
On the other hand, Gujarati New Year begins on Shukla Paksha Pratipada of Kartik month, the very next day after Diwali. With that, we are reminded of the diversity of India and how our differences in the region and religious beliefs have not stopped us from attaining unity. For example, the Hindu new year starts in Chaitra month, Gujarati New Year begins in Kartik (October/November), and the Tamil new year called Puthandu falls in the month of April. Incredible India
---
Gujarati New Year Name: What is it Called?
The Gujarati New Year is called 'Bestu Varas', 'Varsha-Pratipada', or simply 'Padwa'. It is sometimes also referred to as Gujarati Nav Varsh. Though most of the time, you will hear it as 'Bestu Varas', which literally translates to 'new year'. As for almost all the festivals, Gujarati New Year also has a story behind it. Let's find out:
---
Gujarati New Year: History and Significance
It is believed that when Lord Krishna saw annual offerings and preparation for the prayers offered to Lord Indra, he convinced the people of Gokul that as farmers and shepherds, their true 'Dharma' was to do farming and to protect the cattle to the best of their abilities. They should not pray and conduct offerings for a deity and wait for a natural phenomenon. People of Gokul were convinced, and they stopped worshipping Lord Indra.
They were worshipping Govardhan Hill and the cows on the advice of Lord Krishna. This made Indra, God of rain and thunder, angry, and the people of Gokul had to face the wrath of Indra. Lord Indra flooded the village of Gokul for seven days and seven nights. Lord Krishna lifted the mount Govardhan just on his small finger; and provided shelter and safety to the people, crops, and the cattle. Later, Lord Indra realised his mistake and soon apologised to Lord Krishna.
Since then, it has become a tradition to worship Govardhan Hills and celebrate this day as New Year by Gujarati people. Customs and rituals of Govardhan Puja are performed to welcome 'Gujarati Navu Varsh' and bid farewell to the year passed by.
---
Gujarati New Year Muhurats
Gujarati New Year Date: Nov 14, 2023, on Tuesday
Pratipada Date Begins – November 13, 2023 at 02:56 PM
Pratipada End Date – November 14, 2023 at 02:36 PM
The current Hindu Year is Vikram Samvat 2079. This will mark the beginning of Vikram Samvat 2080.
---
Rituals for Bestu Varas
Gujarati New Year is celebrated by the closure of the old chopda and the opening of the new chopda. In Gujarat, traditional account books are known as 'Chopda'.
New Chopda is opened during Diwali Puja, in the presenceविशेषज्ञ ज्योतिषी से अभी बात करें! of Goddess Lakshmi to seek her blessings. This ritual is known as Chopda Pujan. During this ritual, account books are marked with auspicious writings of 'Shubh' and 'Labh', meaning 'auspicious' and 'benefit', respectively. A Swastika is drawn at the beginning of the book to make the forthcoming financial year profitable.
You can perform Laxmi Puja To bring wealth and prosperity to your life from the comforts of your home by booking our renowned and expert Pandits online.
This marks an important day for businessmen in North India and especially Gujarat. The account books are worshipped in the presence of both Goddess Lakshmi and Saraswati.
Though the businesses are closed on Diwali and open on the day of Labh Panchami, the whole staff and the families are invited for the Chopda Pujan.
Also, on this day, Gujrati houses are cleaned and decked up in festivity and grandeur. People wake up early in the morning and visit temples to give an auspicious start to the new year. After that, they proceed to light up some firecrackers, eat up some sweets and snacks, and get dressed to meet up with their friends and family.
---
Happy Gujarati New Year!
On this day of new and auspicious beginnings, we wish you a Happy Gujarati New Year. It is also a day of meeting your friends and family to wish you the best. You can wish your Gujju friends a happy new year with Gujarati new year greetings like 'Saal Mubarak', which translates to 'Greetings for the Year'!
Attract Good Luck With Your Personalised Horoscope On The Auspicious Day Of Gujarati New Year – Talk To Expert Astrologer Now!
With Ganesha's Grace,
The GaneshaSpeaks.com Team
Astrologers trained by Shri Bejan Daruwalla.
---
---
Get 100% Cashback On First Consultation