Govardhan Puja 2023: Auspicious Time, Story And Significance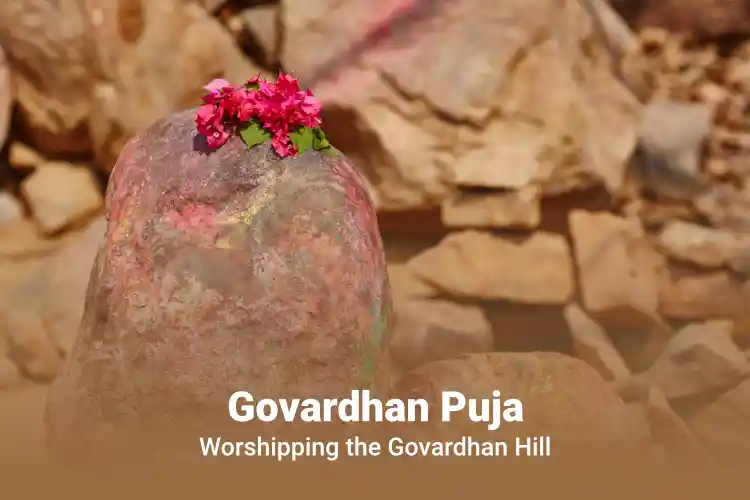 In India and across the world, every festival is celebrated with utmost zeal and devotion. One such festival is Diwali. It is a huge festival. However, Diwali is a five-day festival, one of which is devoted to the Govardhan Puja. This day is also known as the 'Annakoot Puja,' and it signifies the defeat of God Indra by Lord Krishna. Worshippers worship Lord Krishna as well as the Govardhan Mountain on this auspicious day. As per the Hindu calendar, people celebrate this festival on the Pratibha Tithi, Shukla paksha of Kartik month. Let's have a look at the legend, significance, and important rituals about Govardhan Puja:
---
Govardhan Puja 2023 Date and Tithi
Mostly, Govardhan Puja is celebrated on the next day of the festival of light,Diwali. It is the 4th day of the 5-day grand festival that starts with Govatsa Dwadashi puja. Here are important date and tithi timings for Govardhan Puja:
Puja Date: Tuesday, November 14, 2023
Govardhan Puja Pratahkala Muhurat – 06:43 

to 

08:52
Pratipada Tithi Begins – 14:56 

on

 Nov 13, 2023
Pratipada Tithi Ends – 14:36 

on

 Nov 14, 2023
Find the auspicious timing of the day Find Here
---
Govardhan Puja Significance
For the Hindu religion, this festival has great significance. Devotees worship Lord Shri Krishna, Govardhan Parvat, and the cow on this day. Govardhan Puja is a festival dedicated to Lord Krishna, as well as for expressing appreciation and respect towards Mother Nature. On this day, devotees are said to receive Lord Krishna's blessings on worshipping the Govardhan hill and Lord Krishna's favourite cows.
According to Hindu mythology, Lord Krishna raised Govardhan Parvat on his little finger on this day to save the people of Vrindavan from the wrath of Lord Indra, the Rain God. As a result, people started to worship Govardhan Parvat with great enthusiasm, and Lord Krishna was given the names 'Govardhandhari' and 'Girirdhari.'
---
Govardhan Puja Story
As per the Vishnu Puran, Lord Krishna once asked mother Yashodaji why everyone worship and pray to God Indra. Mother Yashodaji explains that people worship God Indra in order to get enough rain for planting, foddering cows, or harvesting cereals from cultivated fields. Young Kanha was not satisfied with Maa Yashoda and said that instead of worshipping Lord Indra they should worship Govardhan Parvat, which would help the villagers to get enough rain. Lord Krishna put an end to the villagers' practises of offering huge quantities of food to God Indra and advised them to use it to feed their families.
It is said that Lord Indra is very aggressive. So, when Lord Indra saw that the people have stopped worshipping him, the heavenly king got furious and decided to take revenge on the people in the form of bringing heavy rainfall. This made everyone fearful and threatened. By observing the villagers suffering and their cries for help, young Krishna immediately took villagers to Govardhan hill, where he lifted the mountain on his little finger. The villagers took shelter from mountain Govardhan along with their pets. Lord Krishna lifted the mountain for seven straight days, and the villagers were unharmed despite extraordinarily bad weather. God Indra soon realised that the young boy is Lord Vishnu's incarnation. He fell at once at the Lord's feet and apologised for his mistake. In this way, Shri Krishna shattered Lord Indra's ego and proved he was the centre of strength for all. Shri Krishna Govardhan Puja is just a small way for worshippers to thank the Lord.
It is believed that performingVishnu Pujaon this day brings immense prosperity into your life.
---
Annakut Puja & Chappan Bhog
On the occasion of Annakut Puja, a large number of pilgrims travel to worship Govardhan mountain, which is located in Mathura, Uttar Pradesh. The elderly people who are unable to walk on the mountain, prepare Chhappan Bhoga prasad for Lord Krishna. Chappan Bhog is basically 56 different food items made up of delicacies, sweets or savouries. Offering a prasad of Chappan Bhog symbolises an individual's respect towards Mother Nature, or in other words, one may receive the divine blessings of Lord Krishna. After worshipping Lord Krishna, a group of people serve Chappan Bhog prasad to the other devotees and also sing Govardhan Puja bhajan.
---
Govardhan Puja Vidhi
Following are the rituals followed by the devotees for Govardhan Puja:
Devotees wake up early in the morning and get ready.
Light diyas and incense sticks inside their home temple
Many people involve themselves in Govardhan Puja drawing to make an idol of it.
Devotees Draw Govardhan with cow dung and offer flowers and prayers.
Also, on this day Chhapan Bhog is prepared and offered as a prasad to the Govardhan idol.
Devotees sing devotional songs, mantras and revolve around the idol of Govardhan
Lastly, Govardhan Puja aarti is done and serve prasad to other devotees.
---
Govardhan Puja Mantra
Recite the below Govardhan mantra in front of the Govardhan idol in order to complete your puja:
"|| श्रीगिर्रिराजधरणप्रभुतेरीशरण ||"
Which mantra is effective for your success? Find with your Free JanamPatri NOW!
---
Happy Govardhan Puja
May lord Krishna bring you luck and destroy all the evils and pain from your life.
Wishing you a very Happy Govardhan Puja.
Attract Good Luck With Your Personalised Horoscope On The Auspicious Day Of Govardhan Puja! –Talk To Expert Astrologer Now!
With Ganesha's Grace,
The GaneshaSpeaks.com Team
Astrologers trained by Shri Bejan Daruwalla.
---
---
Get 100% Cashback On First Consultation