This Women's Day, Let Poonam Yadav Inspire You With Her Success Story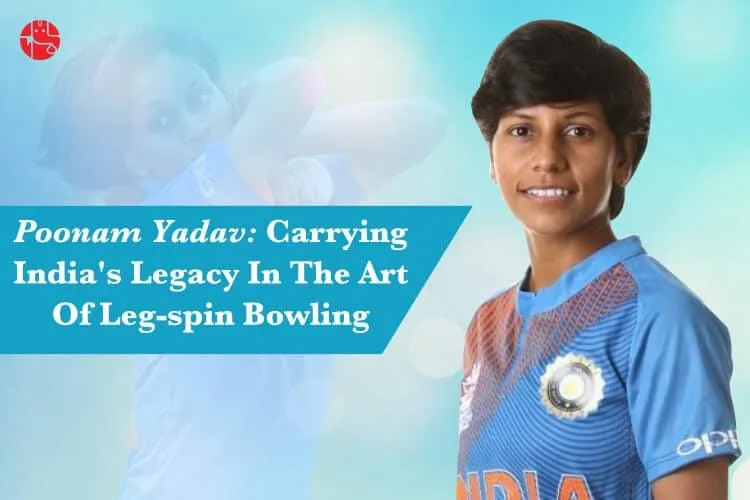 Before getting started, here's wishing all women a Happy International Women's day! 8th March is a day meant to celebrate women's equality and the social, economic, cultural, and political achievements of women. To honour this celebration, Ganeshaspeaks takes the moment to highlight one such inspiring woman trailblazer who has used the same fire, the same strength, and the same drive that a super-woman has. Yes, you heard right, not all super-women are from another planet! Some are from big-small cities in India like Agra.
Can you guess the name?……. Here are some hints: She is the cricketer who has shaped many victories for the Indian team with her economical bowling and wickets. And the one who is carrying India's legacy in the art of leg-spin bowling.
Now any guess, who is she? She is none other than the super talented leg-spinner Poonam Yadav. Let's unearth the powerful story of Poonam Yadav!
Poonam started her career in cricket by playing for the Central Zone, Uttar Pradesh and the Railways in domestic cricket. She made her international debut in 2013 against Bangladesh in the Women's Twenty20 International tournament. Poonam has been a part of just a single test match. That was on 16th November 2014 against South Africa.
Poonam is known for her loopy slow deliveries that bamboozle the batters. Her loopy bowling style has baffled numerous batters. She keeps on updating her style and can bowl faster googlies very well now. In an exclusive interview with Femina, Poonam shared her experiences saying that even though her family was on her side, she had to face sexism from all quarters and have heard taunts like 'Cricket is a gentleman's game' and 'girls should not play cricket'.
Poonam is the only front-line bowler to feature in every T20 match for India this year. This fact goes on to prove how crucial she is to the team. She is one of the most valuable players in the ongoing Women's World T20 World Cup.
On International Women's Day 2020, let's open an unread note from the stars and planets in the chronicles of Poonam Yadav. Here is Ganesha's prediction about Poonam Yadav which reveals whether she would be able to baffle her opponents or not.
---
Poonam Yadav Horoscope (Solar Chart) :
Poonam Yadav Birth Details:
Date of Birth: 24th August 1991
Place of Birth: Agra, Uttar Pradesh, India
Get Your Hand-written Janampatri By Our Experts.
---
What does Poonam Yadav's natal chart predict about her contribution to India's path to glory in the ongoing Women's World Cup?
In the Solar chart of Poonam Yadav, the major planets like Sun-Mercury-Jupiter-Venus are conjunct in the Leo Zodiac Sign. Saturn is placed in its own sign along with the Moon. As per Poonam Yadav's Sun chart, the beneficial phase of Jupiter is likely to boost her success prospects in the coming future which will help her to contribute to India's path towards glory in the ongoing Women's World Cup.
Though she is passing through the Sade Sati phase, her sincere efforts will make her perform well in the series. Also, the current transiting Jupiter's positive influences will boost her overall performance in the Women's World Cup. She will be a tough competitor for the opposition team due to Jupiter's positive influences. She will be able to overcome the major obstacles in her path towards getting the victory.
Saturn will demand strict discipline so she needs to remain cautious about the efforts and fitness as well to achieve the desired success in the ongoing series. But, this is true that she will remain a key player and a game-changer for India during this entire world cup. Will you get the desired success in the year 2020? Get your Free personalized 2023 report!
---
Will India rise to glory in the ongoing Women's World Cup? What do the stars predict about Poonam Yadav's contribution to the same?
YES, according to Poonam Yadav's solar chart there are chances that her overall performance in the entire world cup so far and in the upcoming matches will improve which will help India to move ahead forward to the next level towards the semi-final. As mentioned above she will be able to compete very strongly with her opponents and Saturn's position in the chart will make her victorious.
As the World cup progresses the competitions will remain tough but at the same time, the transit of Jupiter-Mars will make her stronger to defeat the opponent through proper planning, strategy, and team-work.
---
Conclusion:
All in all, Poonam will be able to perform well in the tournament which will raise India's glory in the ongoing Women's World Cup. In the last two major ICC tournaments, Poonam Yadav and Ravi Bishnoi have been earmarked as India's answer to the growing wrist-spin trend in world cricket, creating a tricky situation for batsmen and wicket-taking opportunities for the captain. Ganesha wishes her luck and we are sure that Poonam will shine even brighter at the World Cup and continue taking women's cricket to newer heights!
For Instant Solutions! Talk To an Astrologer Now.
With Ganesha's Grace,
GaneshaSpeaks.com
---
---
Get 100% Cashback On First Consultation