Why Khali is Great?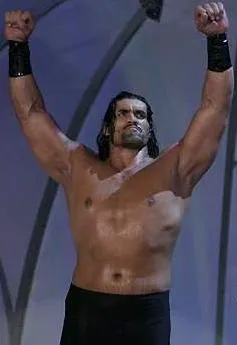 The Great Khali is the lone holder of Indian pride in the World Wrestling. He is an Indian professional wrestler, actor and former power lifter who won Mr.India in 1995 and 1996.
The Great Khali alias Dilip Singh Rana, whose name surely rings bells in everyones' minds, right? WWF Champ Khali has rocked the world like anything. He appears regularly on TV channels and he is one of the highest TRP gainers at least in India. Such is the mania for Khali that he is on tube, it's impossible for kids to shift to other channel.
What is so great in Khali's Horoscope that makes him 'Great in real sense'? Ganesha throws light on the same with spectacles of Astrology.
Khali- Dilip Singh Rana
Date of birth- August 27, 1972
Time- Unavailable
Place- Dhirera, Himachal Pradesh, India
Khali's Surya Kundli
As Khali's time of birth is unavailable, Ganesha has prepared his Surya Kundli (placing Sun in the Ascendant). Ganesha notes that Khali has Sun is at 10 degree and Mars is at 14 degree in Leo. Both the fiery planets are in fire sign in his chart. Moreover, he has a strong fire element which indicates that he is a 'Dare Devil' in real sense. Fiery planets give lot of enthusiasm, vigour and 'Fire' in true sense, notes Ganesha.
Khali's Elements
In addition to this, his Shad Bala (6 type of planetary strength) chart indicates that Mars and Saturn are very powerful, of course along with Venus. Mars gives strength to fight, Saturn endurance and Venus gives glory. Sun is as it is in Leo in his chart which helps him remain in the limelight. Khali doesn't use much of intellect while playing as we can see in his Element Chart and Shad Bala that Air element is low and Mercury doesn't gain much of strength in the Shad Bala.
Khali's Shad Bala Strength Meter
---
Khali and Jupiter Return
Khali is at present passing through Jupiter Return cycle. When people pass through Jupiter Return phase, they tend to achieve fame, provided the Natal chart promises the same. In Khali's case, Natal chart is highly promising for the fame-name. Khali is at present passing through a very tremendous time on his career front
---
How can Khali be beaten?
As Khali has high fire element and low Air element and Mercury is also not gaining much strength in the Shad Bala, Khali can be beaten by and intelligent rival but that intelligent opponent must have daring to stand against this Fiery Khali!
Mars Return – Khali's Nearer Future – Injuries and Fame together
Khali is likely to experience 'Mars Return' on 15th July 2008 at 10 hours 27 min. provided he is in India during that time.
Khali's Mars Return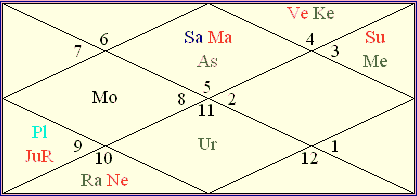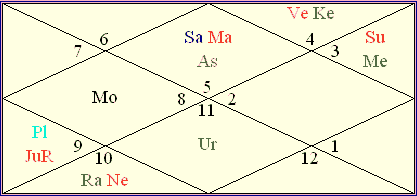 Ganesha notes that his 'Mars Return' has Saturn and Mars in Leo Ascendant. Rahu (Moon's North Node) is in the sixth house. These factors indicate that he will be able to defeat his enemies, however, Mars in the Ascendant opposition to Uranus indicates that towards second half of the year Khali may be injured. Khali will also have to keep himself away from controversies as Venus is with Ketu in the return chart in 12th house.
Good luck and may Lord Ganesha bless Khali with great success.
With Ganesha's Grace,
Bhavesh N. Pattni
www.GaneshaSpeaks.com
---
---
Get 100% Cashback On First Consultation