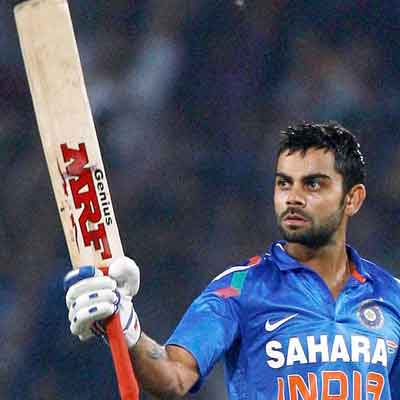 "His leadership acumen may be under a cloud till around January 2016, so needs to focus more on batting till then" - Voice of Ganesha.
Virat Kohli slammed a brilliant 138 before the bowlers produced an impressive performance as India comfortably beat South Africa by 35 runs to level the series 2-2 in Chepauk. Though, India couldn't clinch a series victory, as the South Africa proved to be too hot to handle in the 5th and final ODI, Kohli showed streaks of resurgence and return to his form. In the end, Kohli's 23rd ODI hundred proved to be a shade better effort than De Villiers' 22nd ton in the final context of the match. If Kohli's innings was about asserting his supremacy in the limited overs format, De Villiers was innovation personified hitting all round the wicket. But what do the stars have to say about the aggressive Scorpio crickter? Will he turn the tables in the upcoming matches? Find out...
Virat Kohli:- Indian Cricketer
Date of Birth:- 5th November, 1988
Time of Birth:- Not Known
Place of Birth:- Delhi, India
SOLAR CHART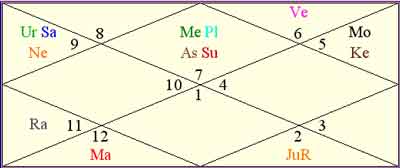 [Owing to the unavailability of credible birth-time of Virat, the analysis and predictions have been done on the basis of the Solar Chart/ Surya Kundli with the help of his birth-date and birth-place only.]
1) Does Kohli's ton signal a return to top form?
Important astrological observations :-
Jupiter will be transiting over his Ketu, and will be aspecting his Saturn in Sagittarius. It will also be aspecting his Rahu in Aquarius till 11th August, 2016 in his Solar Chart.
Rahu will be transiting over his Venus in Virgo and Ketu will be transiting over his Mars till January 2016. Rahu-Ketu will be in half return phase, post this time frame.
Saturn will be aspecting his Jupiter in Taurus, and will also be aspecting his Ketu during the entire year ahead.
Astrological Predictions :-
Ganesha feels that Virat Kohli's concentration and hard work may lead to success, as his 23rd ODI hundred may be due to his luck. Hence, he will have to struggle hard to get into his real form/standard game.
2) Will Kohli lead India to more victories in the near future?
Important astrological observations :-
Astrological observations are same as above.
Astrological Predictions :-
It may be difficult for him to lead India to more victories, prior to January 2016. However, he has the inherent quality to lead the team even after facing various hindrances on the way to victory, post the above mentioned period. His powerful Saturn will also help him to overcome the struggles.
Ganesha wishes good luck to Virat Kohli.
With Ganesha's Grace,
Rantidev A. Upadhyay
The GaneshaSpeaks.com Team