Usain Bolt Birthday Predictions 2019 – Birth Chart and Zodiac
Published on August 21, 2019
Usain St. Leo Bolt, popularly known as Usain Bolt is a retired sprinter from Jamaica and has world records of 100m, 200m, and 4X100 m relay championships. Usain was born on August 21 and owing to his remarkable contribution to the sport and the vitality which he lent to it. He is regarded as the greatest sprinter of all times.
Usain was born on August 21, 1986, in a small town in Jamaica. Bolts had a grocery store in the area, but child Usain was always interested in sports. It was in his primary school, Waldensia Primary, his real instincts in sprint came to light when he participated in the Annual National Primary School Meet. At a tender age of 12, he was able to get the title of the fastest runner of the school in over 100m race. Even after he entered the William Knibb Memorial High School, his focus on other sports was not hidden, and he was soon noticed by the cricket coach who had guided him to only focus on the track events.
Bolt was lucky to be a part of the school which had already produced champions. He was also fortunate to his coaching by a former Olympic sprinter Pablo McNeil and Dwayne Jarrett. They constantly pushed him to channelize his entire energy and effort on athletic abilities. It was in 2001 when Bolt bagged his first Annual High School Championships where he got a Silver medal. His coach was often unhappy with Bolt due to his lack of dedication.
Bolt made his first international appearance in 2001 IAAF World Youth Championships at Hungary where he failed to qualify for the finals. Apart from a few ups and downs which were due to his non-serious attitude, Bolt set his first records at the CARIFTA Games and then there was no looking back. He rose to prominence and was gaining popularity. It was in 2004 under the guidance of his new coach, Coleman; he ultimately became a professional player. Again with his share of rough patches, it was in 2007, when he scaled a new milestone on the world platform and from thereon he continued to surprise himself and his fans.
Usain Bolt Birth Chart
SURYA KUNDALI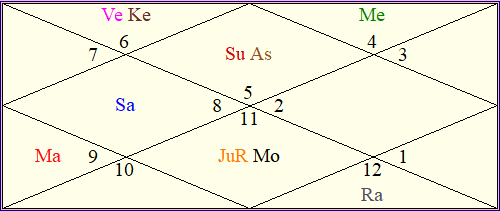 Now, let us see what Our Expert Astrologer has to say about Usain Bolt Kundli in the coming year.
1. Will he attain any new milestone in his life at this age?
The future has many pleasant surprises in store for him. Something big awaits him shortly, and there will be many new dimensions or avenues which he will discover. Stars are working in his favour and are in a supportive position. He is sure to achieve new milestones in his life. Age doesn't matter, but what will work best for him is his positive attitude and a focused approach to pursue success. The current period in his life marks a perfect phase which is highly conducive to him to apply efforts in a channelized manner. There are many significant opportunities which are headed his way and will bring him huge success and prosperity. Both personal and professional growth can be expected at this stage.
2. What is the best gift which he can receive from his family, which will bring him luck?
In order to achieve success, blessings are wholesome and complete. Bolt is blessed with a beautiful family who is supportive of him at every step. Stars are in their best position and will continue to support his efforts and win him family support. He has a unique energy to take quick decisions and then work on them to make them productive. He is blessed with a divine influence which will continue to show marvels in his life and bring him success. A new foundation will be possible for better growth. It is the auspicious energy of the planets, which will help boost the confidence to attain greater heights.
3. Will this year bring him back to his dream to play Football?
Yes. Usain Bolt Kundli suggests that he has everything in his favour to live his dream again by playing football. He is standing at a perfect turning point of his career where he can have a clear view of the future aspects. His keen vision will help him turn his aspirations into reality. He has to put various things in the right perspective and have a balanced approach in life. It will be helpful in bringing him back to the football ground.
4. How will his newly founded company e-scooter perform in the latest European market? Does it stand a chance to enter the Asian markets this year?
There is a transit seen in the natural benefic Jupiter over the 4th House which will bring him both prosperity and success. The coming year will mark his pursuits for success, and he will be crowned with perfect growth in his new business venture, the E-scooter company. There are strong possibilities of achieving success in the European markets. He will make enough efforts to turn things in his favour on the professional front.
He will have strong gut feelings, and with added efforts in the coming year, he will be able to bring on the windfall of financial gains with entry into the Asian markets. He will have great luck in his professional endeavours and will be able to bag many new business projects. Also, he will make use of many new technologies to establish a strong foundation for future growth and business expansion.
5. Is there any lucky colour/date/day which if taken care will bring him luck?
As per the current position of his stars, the lucky day is Wednesday and Friday. His lucky colour will be Royal Blue and Indigo. The power of his luck will be further enhanced when he abides by these as the auspicious energy of these will push him closer to success.
Future of Usain Bolt is replete with prosperity. A great year awaits Usain Bolt where he will be actually living his dream again by playing football. Also, his professional stars are bright, and all that is needed is the right mix of energy and effort. There is no room for distractions which have always been a part of his personality. His new business venture will flourish in Europe and by the blessings of his family and the energy of his stars, it will grow bigger. There are strong chances of great success if he plans to enter the Asian markets. Usain Bolt has redefined the meaning of success on the field, and he will again script history in the business. For more of these kinds of personal predictions, you may Ask our Personal Astrologer.
With Ganesha's Grace,
The GaneshaSpeaks Team