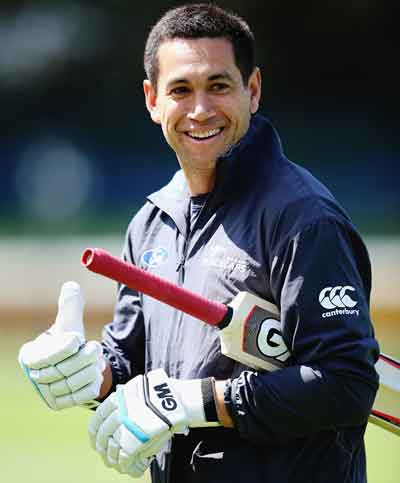 With an innings that kept fluctuating from classy to scratchy to aggressive in undistinguished patterns,  Ross Taylor fought bad form and hostile bowling to score a double hundred against Australia on Day Three of the second Test at Western Australian Cricket Association (WACA) Ground in Perth. In doing so, Taylor became the first New Zealander to score a Test double and the first foreign batsman to score a Test double hundred at the WACA. Yet, through the entire course of the knock, Taylor never once settled into a rhythmic constancy. We have all seen on many occasions, how he can be devastating and brutal with the bat and give the bowlers panicky situations. Yet, the past few months have not been too wonderful for Ross, and he has had to even struggle to find the purple patch. What does Ganesha have to say? How will the New Zealand Batsman fare in the year ahead? Let's find out...
Ross Taylor - New Zealand Cricketer 
Date of birth :- 08th March, 1984
Birth Time :- Not Known
Place of Birth :-  Lower Hut, Wellington, New Zealand 
SOLAR CHART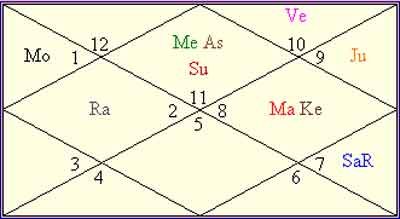 [Owing to the unavailability of credible birth-time of the celebrity, the analysis and predictions have been done on the basis of the Solar Chart/ Surya Kundli with the help of his birth-date and birth-place only.]
1) What may have caused Ross' return to form?
Important astrological observations :-
Transiting Jupiter will continue aspecting his Jupiter in Sagittarius, till 11th August, 2016. It will also be aspecting his Sun and Mercury in Aquarius. 
Astrological Predictions :-
Ganesha feels that Ross Taylor's returning to the aggressive form is due to the positive aspect of transiting Jupiter on his natal Jupiter,  Mercury and the Sun. This has given him the boost and has infused in him a surge of confidence and self-belief! He would be able to read the deliveries and conditions well and he will enjoy the help of great judgment as well. His concetration will also be good, so he will be able to focus better. Jupiter, the prime benefic that it happens to be, even shall bless him with great appreciation and accolades. 
2) What is the current planetary picture for Ross? Will he have a blast with the bat in the year ahead? 
Important astrological observations :-
In addition to the above points :-
Saturn will be transiting over his Natal Mars and Ketu in Scorpio, and it  will be aspecting his Venus in the Sign of Capricorn, during the entire year ahead.
Ketu will be transiting over his Natal Mercury and the Sun, post 30th January, 2016.
Astrological Predictions :-
Looking at the current transiting influence of the planets in his Solar Chart, Ganesha feels that there are moderate chances of maintaining/ continuing his current form. The restrictive influence of Saturn on his Natal Mars (the Karaka of Sports) may not let him maintain great consistency. 
3) Any fitness problems indicated? 
Ganesha does not find any threats of having some injury or health-related problems during the year ahead. He would be able to maintain good health and play with good strength and vigour. However, he may have to concentrate and pay more attention on his performance, post 30th January, 2016.
Ganesha wishes good luck to Ross Taylor.
With Ganesha's Grace,
Rantidev A. Upadhyay
The GaneshaSpeaks.com Team