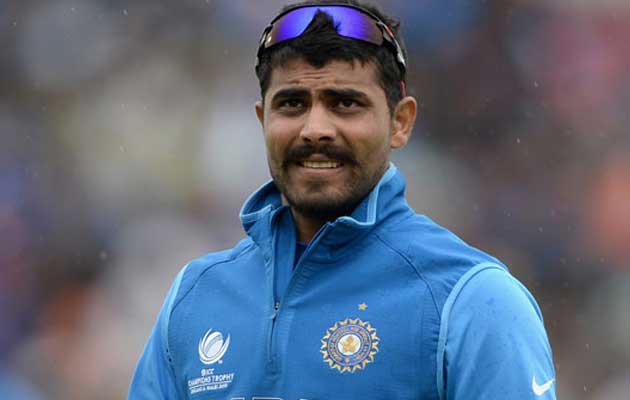 Ravindra Jadeja - one of the most ridiculed cricketers has impressed cricket lovers with his spectacular performances in limited-overs games. Ravindra is also regarded as a reliable all-rounder in Team India. Moreover, his match-winning abilities enabled him to quickly reach the pinnacle of success. But, of-late, Jadeja's contribution both as a bowler and batsman has hit a low. He was recently excluded from the Indian squad for the 3rd ODI against Bangladesh, due to his dipping form and mediocre performance. Will Ravindra Jadeja turn the tables and once again prove his mettle? Probes Ganesha.....


Ravindra Jadeja
Date of Birth :- 06th December, 1988
Time of Birth :- 10:00 AM
Place of Birth :- Jamnagar, Gujarat, India

NATAL CHART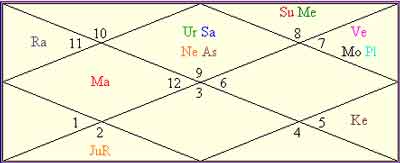 Astrological Observation
Currently Jupiter is transiting through the 8th House of Ravindra's Chart. And, also aspecting the planets posited in the 4th House and the 12th House of his Chart till 14th July 2015.
Thereafter, Jupiter will transit over Ketu through Leo Sign, and will be aspecting Saturn and Rahu in his Chart.
Retrograde Saturn will be transiting over his Natal Sun and Mercury till 1st August 2015. And, it will be aspecting his Natal Jupiter and Ketu.
Rahu is transiting through the 10th House and Ketu is transiting over Mars through the 4th House till January 2016.
He is under the influence of major and sub-period of Saturn till 23rd July 2015. Thereafter, sub-period of Mercury will start, and it will end on 1st April 2018.
Astrological Predictions
Considering the planetary transits mentioned above, Ganesha feels that cricketer Ravindra has lost self-confidence, and has also suffered loss of fame and popularity due to retrograde Saturn's adverse effect on his Chart. Besides, Ketu's transit over Mars has weakened his performance and made him a loser.
However, the transit of Jupiter through Leo Sign, and the beginning of Mercury's sub-period from 23th July 2015 will be highly favourable for him and lead to positive results. He shall thereafter, perform better both with the bat and ball during the next year up to 11th August 2016. And, he will once again exhibit his superb skills and technique. Although his future is bright, cricket lovers will have to wait for the good time to come in the near future.

Ganesha wishes a great time ahead to Ravindra Jadeja.

With Ganesha's Grace,
Rantidev A. Upadhyay
The GaneshaSpeaks Team