No boundaries for Shoaib and Sayali
Introduction: Shoaib Malik, the Captain of the Pakistan Cricket team, is clean bowled by the ultra sexy model and winner of Femina Miss India 2004, Sayali Bhagat. Media-persons spotted them together entering a beauty parlour in Mumbai. Both have reportedly accepted their relationship in public. Ganesha predicts the destiny of this relationship.
Shoaib Malik's Surya Kundli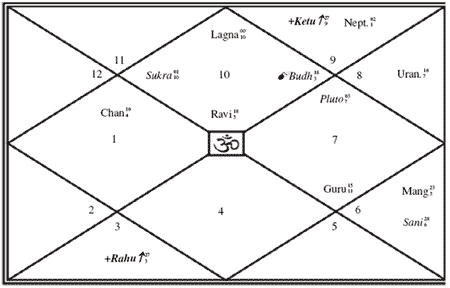 Sayali Bhagat's Surya Kundli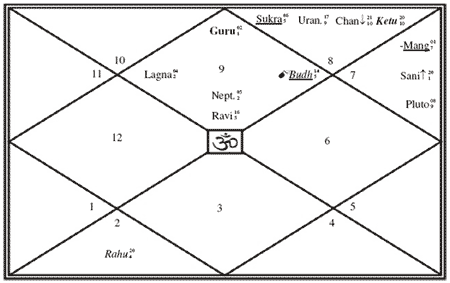 Sayali Bhagat's Sun sign Capricorn depicts that she is ambitious, powerful, intellectual, perspicacious and persistent. She has Mars Vargottama and Venus is in exchange with Mars. This makes her bold, beautiful and very attractive.. The world got a glance of her boldness when she proposed to Rahul Dravid on TV and in 2007, she proposed to Irfan Pathan as well. Now she is dating the captain of the Pakistan cricket team, Shoaib Malik.
Shoaib Malik's Sun sign is Aquarius, which makes him unconventional but innovative and charming. He may be a person full of surprises and cannot remain happy unless he is free to act according to his will.
Ganesha sees a potential for romance and strong friendship between them. Aquarius Shoaib may find the goat Sayali, super sexy. But Sayali may find Shoaib too free spirited. The dearth of element of romance in Shoaib may irritate Sayali at times. Sayali's Venus sextile Shoaib's Venus indicates strong attraction between them. But her Mars conjuncts Shoaib's Pluto and Saturn squares Shoaib's Sun may create severe problems in the relationship.
So, the relationship is good for a short-term romance and friendship will be the most likely relationship between them.
Shoaib has Mercury-Venus placed in the 10th house from natal Moon which makes him attracted towards the glamor world but as far as acting is concerned his chart doesn't show any extra ordinary talent. On the other hand, Sayali has all the charm and appeal to make her presence felt on the silver screen. So, it could be an odd experience for Shoaib as an actor and Sayali may dominate the whole show.
With Ganesha's Grace,
Tanmay K.Thakar,
www.GaneshaSpeaks.com