MS Dhoni to begin Indian army Inning, know more about his future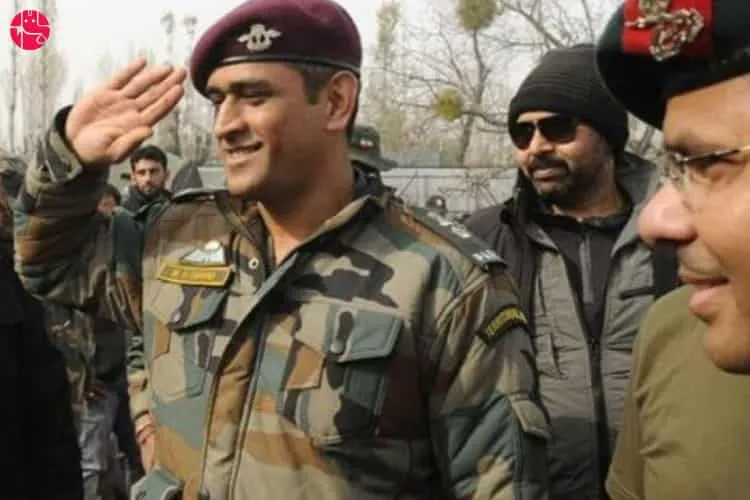 Lieutenant Colonel Mahendra Singh Dhoni joined army troops in the militancy-infested south Kashmir region to carry out patrolling duties to perform his responsibilities with the Parachute Regiment of the Territorial Army starting from July 31, 2019. He will be in the valley till August 15 with his unit and live like other soldiers in the battalion.
The former Indian captain is a part of the Territorial Army, which is a reservist force comprising of civilians doing short stints with the armed forces to assist them. In his 15-day stint, Dhoni will be a part of the Victor Force engaged in counter-insurgency operations in Kashmir. He is a trained paratrooper, and his stint in the valley will be a part of his training.
Meanwhile, the World cup-winning skipper had to take a two-month sabbatical from cricket to serve his duties with the Indian Army. Amidst speculation that he might retire anytime soon, he made himself unavailable for the selection of India's tour of West Indies.
During the recently-concluded ICC World Cup 2019, The 38 years old World cup winning captain Dhoni was vehemently criticized for his slow batting at times when the situation demanded free-flowing innings. Many pundits and ex-cricketers came calling his name and suggested he should retire if he cannot bat like his old self. However, despite all the criticism and condemnation, Dhoni was India's fourth-highest run-scorer of the tournament just after the highly decorated top-three of Indian batting.
Talk to our astrologer to know the right career for you.
Let's have a look at what astrology has to say about MS Dhoni's decision to join the Indian Army:
---
Future of MS Dhoni Indian Army
According to the Vedic Astrology, his Moon sign is Leo. His planetary combinations indicate that he is dynamic, bold, courageous and passionate by nature. He is ambitious, action-oriented and determined. Due to fire element of his sign, sometimes he may be temperamental, straight forward and commanding at times. He is sincere, hard-working and dedicated towards his goals, his duties and his responsibilities, which has helped him in achieving the higher elevation in the international cricket.
---
Buddhaditya yoga
When Mercury (Budha) – 'The Prince' in Vedic astrology is in conjunction with the Sun (Aditya), it is called the Budha Aditya Yoga. The Sun and Mercury conjunction makes him a healthy, opinionated person offering him a position of authority. As the Sun represents the father, he may have much of his intelligence coming through the guidance of his father or an older person. This also indicates that he will get excellent support from the government. He will be able to express his opinions easily. This yoga means that he will get authority in his life.
Know what career best matches your personality. Talk to our astrologers.
---
His natal Jupiter is in conjunction with Saturn, which gives him patience along with wisdom. He can read between the lines, which will help him in understanding the situation, and it will help him in acting accordingly. The current transiting Jupiter aspects his natal Mars. Mars is the signifier of defence jobs, and it is under the influence of the transiting Jupiter that he has decided to serve the nation. The current transit of Jupiter is through the 4th house from the natal Moon and it aspects the 10th house of career and success, which indicates that he will successfully carry out his duties in the Indian army.
He will do a 15-day stint with the Victor Force engaged in counter-insurgency operations against militants fighting Indian rule in the country's only Muslim-majority region of Kashmir. This will inspire young people to join Indian defence forces, and it will also help the security forces raise their profile, particularly among young people who are their key pool of recruits.
He will be with the troops till August 15 and will be assigned patrolling, guard and post duty. This was the reason the former Indian captain made himself unavailable for the upcoming West Indies cricket tour.
Just like Dhoni has been one of the greatest servants of Indian cricket, his love for the armed forces is also well known and will also play his Indian army Inning well. This will also help increase awareness among the youth about the armed forces and that is what Dhoni wants.
Ganesha appreciates his decision to serve the Indian Army and wishes him luck for his future endeavours.
To Get Your Personalized Solutions, Talk To An Astrologer Now!
With Ganesha's Grace,
Acharya Shandilya,
The GaneshaSpeaks Team
---
---
Get 100% Cashback On First Consultation