MC Mary Kom may have to face planetary hurdles, before she achieves the Olympic glory, feels Ganesha
2012 London Olympics are merely two weeks away, and as the world awaits this magnificent and towering sporting event, athletes across the world gear up to join the race to eternal glory. Indian sporting squad too is all set to embark for the venue city amidst all the hopes and speculations. Sports-persons from aggressive sports including boxing are India's best bet this time around. Will they be able to secure medals, and bring glory to our country? A lot rests on the motivation and preparation levels of these athletes. One name amongst these people that's generating a plenty of interest and hopes is MC Mary Kom's. Women's Boxing, as a sport, is slated to make its debut in London Olympics 2012. And, Mangte Chungneijang Mary Kom, also known as MC Mary Kom is India's prime and only contender for this slot. The 29 year old, a mother of two, Mary Kom hails from the North-Eastern Indian state of Manipur, and is the only woman boxer to have won a medal in each of the six World Championships. The proud bearer of the Queen's baton in 2010's Delhi Commonwealth Games' opening ceremony, will Mary be able to strike gold in the 2012 London Olympics? Ganesha looks at her natal chart to see what chances she has of bringing home a medal from Olympics 2012.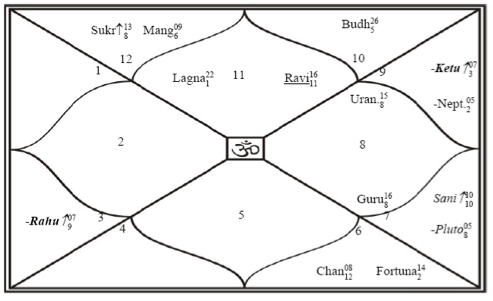 As aforementioned, women's boxing is being introduced for the first time in Olympics in the London Olympics 2012. MC Mary Kom is the only Indian female boxer to qualify for this category in the London Olympics.
On looking at her natal chart, it can be ascertained that she has her natal Moon placed in the Earth Sign Virgo. Mars is aspecting the natal Moon. Note that Mars in this placement is strong by exchange with Jupiter. Mars is the planet that rules the athletic endeavours like Boxing. The red-warrior planet Mars conjunct with the exalted Venus in Mary's natal chart shows that she possesses an extraordinary talent as a woman Boxer.
During the London Olympics, the transiting Saturn and Mars will conjunct with her natal Moon. Naturally, Mary would want to achieve great heights, and would want to make an impression from the word go. The transiting Jupiter aspecting the natal Moon will motivate her further to accomplish her goals, acquire greatness and bring home a medal. One look at her natal chart, and it can be deduced that the lady is a thorough professional and a real perfectionist. This shall stand her in a good stead in the international tournament.
However, despite the apparent positive chances, Mary's path may turn out to be more difficult than expected. There are chances that she may lose her concentration, specifically during the middle of the tournament. Her performance in the Quarter-finals will be crucial to her success, and it will decide her fate. While a favourable transit of Jupiter looks set to help her, the transiting Moon would demand anger management on her part. If she survives this crucial phase, she would easily be able to leave the others behind, and may win a medal for India.
We wish her good luck. May Lord Ganesha bless her.
With Ganesha's Grace,
Tanmay K.Thakar,
The GaneshaSpeaks Team
Talk to our Astrologers First Consultation with 100% Cashback
---
---
Get 100% Cashback On First Consultation