Leander Paes is Ganesha's favourite for a US Open title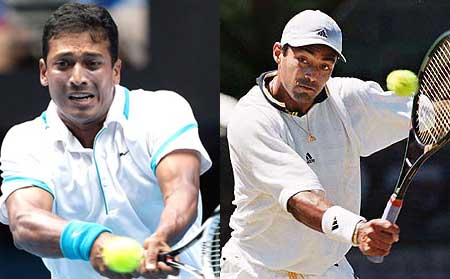 Mahesh Bhupathi and Leander Paes, rated among the best doubles tennis players in the world, are on course for a title clash in the mixed doubles event at the US Open tennis tournament.
In the mixed doubles quarter-final, second seeds Paes and Zimbabwe's Cara Black defeated Robert Lindstedt of Sweden and Rennae Stubbs of Australia 7-5, 3-6, 10-6, and top seeds Bhupathi and Liezel Huber of the US outwitted Nenad Zimonjic of Serbia and American Bethanie Mattek-Sands, 6-4, 6-3.
Paes and Black will meet the unseeded pair, Su-Wei Hsieh and Kevin Ullyett, in the semi-finals, while Bhupathi and Huber take on another unseeded pair, Carly Gullickson and Travis Parrott.
The two have also entered the men's doubles quarter-finals at the Flushing Meadows in New York. In the fourth round match of the men's doubles, third seeds Bhupathi and Mark Knowles of the Bahamas beat Taipei's Yen-Hsun Lu and Israel's Dudi Sela, 6-4, 6-4, while fourth seeds Paes and the Czech Republic's Lukas Dlouhy thwarted the challenge posed by Austrian pair Julian Knowle and Jurgen Melzer 7-5, 6-4.
Leander Paes has won 9 Grand Slams, while Mahesha Bhupathi has 11 Grand Slam tournaments to his credit. Ganesha uses the Vedic astrology system to determine which one of the two is more likely to win a US Open tittle this year.
Leander Paes
Date of birth: 17th June, 1973
Time of birth: Unavailable
Place of birth: Panjim, Goa, India
Leander Paes's Surya Kundli
Mahesh Bhupathi
Date of birth: 7th June, 1974
Time of birth: Unavailable
Place of birth: Chennai, India
Mahesh Bhupathi's Surya Kundli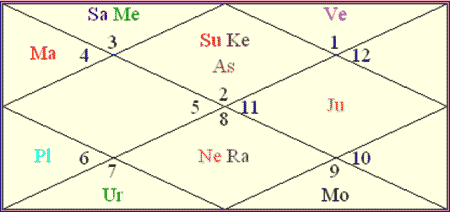 Bhupathi and Paes: Planetary connections
Both of them are born with Mercury in Gemini. Mercury rules hands and intellect both. In tennis, hands and footwork both play a vital role. As Mercury occupies its own sign in both the charts, they are good at tennis.
In any horoscope, Sagittarius to Pisces sign rules the feet. In Bhupathi's chart, Jupiter is placed in Aquarius, which is also responsible for his excellent footwork. In Paes's chart, Mars in Pisces makes his feet stronger and allows quick and free movements of legs while he plays.
Luck favours, but partly
Though Bhupathi and Paes are not playing together this time, because of the Mercury factor, their fate will be almost similar. Ganesha observes that transiting Mercury is exalted at present but retrograde too. Mars is in Gemini transiting over their Mercury.
Paes, however, has better chances of defeating his opponent than Bhupathi, because Bhupathi is prone to playing rashly. Also, Paes has stellium of planets in Gemini, over which Mars is transiting. This means that luck is in his favour.
Best wishes to both of them.
With Ganesha's Grace,
Bhavesh N. Pattni
www.GaneshaSpeaks.com