Stars promise illustrious times ahead for fiery Jwala Gutta, says Ganesha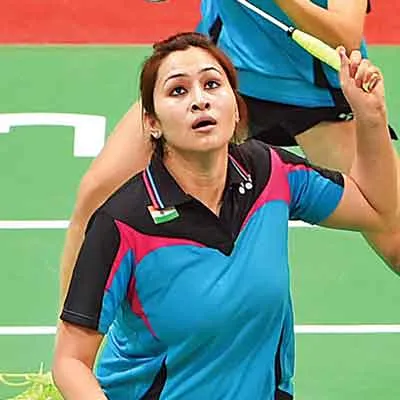 A top level left handed international badminton player from India, Jwala Gutta is country's reigning doubles specialist, ably representing India on the international circuit, since over 15 years now. Recently, the arresting badminton player enthralled the nation and sports enthusiasts, as she, along with doubles partner Ashwini Ponnaappa, clinched the 2015 Canada Open Badminton Doubles title. The pair that re-united in 2012 registered its first victory, after 2012 London Olympics, and are quite ecstatic understandably. Ganesha here looks at feisty and fiery Jwala Gutta's Solar Horoscope to predict the way ahead for the dynamite lady.
---
Jwala Gutta:- Badminton Star
Date of birth :- 07th September, 1983
Birth Time :- Not Known
Place of Birth :- Wardha, Maharashtra, India
SOLAR CHART:- 
---
Astrological Observations
Rahu is transiting over the retrograde Mercury (Swagruhi) through the 2nd House and Ketu is transiting through the 8th House in Jwala Gutta's Chart.
Post January 2016, Rahu will be transiting through Leo sign over the planets of Gutta's 1st House and Ketu will be transiting through her 7th House.
Currently Jupiter is transiting over her debilitated Mars, while aspecting the planets of her 4th House in her Solar Chart. Jupiter will be transiting through Leo Sign over the planets of 1st House, post 14th July 2015.
Further, the retrograde Saturn is currently transiting over her Jupiter and Ketu through the 4th House, aspecting Rahu and the planets of 1st House in her Solar Chart.
---
Astrological Predictions
1) What do the planets indicate about the Badminton champ?
Ganesha feels that considering the transiting planets mentioned above, the Badminton champion Jwala Gutta's planets are supportive of her career. They have been giving her enough strength, but she will have to struggle hard and do extensive practice to maintain her standard, as the transit of Saturn and Rahu are creating adversity, while diminishing, to some extent, the benefit given by the transit of Jupiter onto her. However, the Yogakaraka Mars has a positive aspect on Jupiter in her Solar Chart, which is sure to give her the desired success in her chosen sport.
2) Which planets are supporting her currently bright phase?
The transit of Jupiter, ongoing currently, is quite supportive for Jwala Gutta, as it is providing enough strength to the debilitated Mars in her Chart, giving her enhanced wisdom and prudence. This aspect of Jupiter on both the planets of her Chart are the key fundamental reason for the current bright phase she is enjoying in her sports life.
3) How will the upcoming time be for her?
She has got a bright period ahead of her in her career, and it is likely that she will be able make good improvement in her performance, as the transit of Jupiter, post 14th July, 2015 over her Venus (as per her Solar Chart), the significator of arts and performance, will remain favourable for her, bringing her fame and fortune. Moreover, Jupiter shall also be aspecting the performance House in her Solar Chart, while forming a Square aspect with the Lord of her 5th House. This transit over her Sun will also give her fame and popularity, all over gain, maybe at the world level.
4) Will she achieve greater success in the future?
Ganesha feels that the illustrious Badminton player will get greater success, because as said above, the planets in her Solar Chart are well placed for her Badminton sports career, as well as the transit of the positive planets is going to give her a good push. This will greatly enhance her future prospects. Ganesha wishes good luck to the Badminton Champ Jwala Gutta.
With Ganesha's Grace,
Rantidev A. Upadhyay
The GaneshaSpeaks Team
---
---
Get 100% Cashback On First Consultation