Is a new partnership for Sania Mirza in the offing?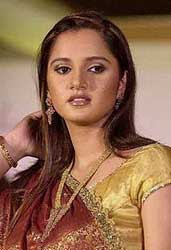 As a teenager, she created history in Indian tennis by breaking into the top 50 WTA rankings. When she bagged the Hyderabad Open Trophy in 2005, she was the first Indian to do so. She was also the first Indian to have won a Grand Slam title in the women's doubles event.
Bestowed the Arjuna award and the prestigious Padma Shri by the Indian government, she was featured on the cover of Time magazine. Finally, with the Newcomer of the Year title given to her in 2006 in the presence of world's greatest WTA and ATP tennis players, everyone knew that Sania Mirza had arrived.
Youth icon, the flamboyant and tenacious Sania's popularity is no less than a cricketer or an actor's, and it came as no surprise when Adidas decided to launch an international line of sport apparel after the 22-year-old.
It wasn't surprising either when her supposed link-up with Shahid Kapoor was the talk of town, and later she was rumoured to be seeing South Indian actor Navdeep.
But the latest buzz is about Sania's impending marriage to one Sohrab Mirza, whose family owns the Universal Bakery in Hyderabad. Sources say that talks between the two families will be concluded soon. Hampered by injuries and a declining career, Sania is supposedly keen to settle down. Find out what Ganesha has to say about her marital future: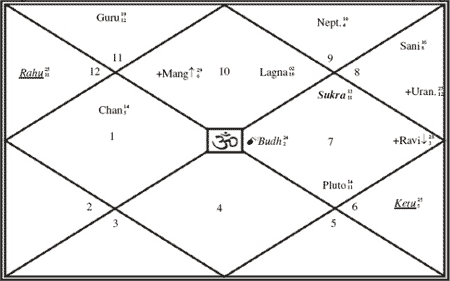 Moon, Lord of the 7th House (Marriage), is in Bharani Nakshatra and placed in the 4th House in exact opposition with Venus.
Moon is placed in the 8th House of Navmansa chart with Ketu.
5th House rules romantic relationships and, when activated, it increases the chances of falling in love. From 1st September, 2009, Sania will be under the influence of Venus Bhukti. Venus is the Lord of the 5th House in her chart and is very strong in the 10th House.
Transiting Venus will conjunct natal Venus between 10th and 20th November, 2009.
The Nodal axis (Rahu-Ketu) is considered to be very important in predictive work, especially emotional or spiritual connections with others. The tennis star is currently passing through Ketu Bhukti and transiting Ketu is moving in the 7th House.
Sun-Moon midpoint falls in Cancer 18 Degree. Transiting Venus will conjunct midpoint in the first week of September 2009.
In her solar return chart, Lord of the 7th House is placed in its own sign and is powerful in conjunction with Venus.
She will be passing through Jupiter's return during 2010 and transiting Jupiter will be aspecting natal Venus.
Prediction
As per Ganesha's calculation, Sania Mirza may get engaged anytime in the period between 1st September and 3rd December, 2009. Finally, she may get married between August and October 2010.
Lord Ganesha wishes Sania Mirza the very best in life!
With Ganesha's Grace,
Tanmay K.Thakar,
www.GaneshaSpeaks.com