Indian cricket scenario may remain in turmoil in the wake of recent IPL spot-fixing scandal, say the stars
Indian cricket scenario may remain in turmoil in the wake of recent IPL spot-fixing scandal, say the stars


Cricket in India is at present in a state of turmoil and anarchy, as controversy has dragged prominent cricket administrator and BCCI President N Srinivasan into the quagmire of corruption. It is assumed that the recently concluded IPL is the fountainhead of corruption as three notable cricketers along with two franchisee owners had been found guilty for their alleged role in spot-fixing and betting. Betting in sports in India is strictly prohibited, and hence the spot-fixing issue has shaken the faith of crores of Indian cricket lovers. The position of N. Srinivasan is becoming increasingly untenable, as the clean chit given to him by the two-member probe panel by the governing body to investigate the IPL spot-fixing scandal has drawn flak because the Bombay High Court has declared the probe as illegal and unconstitutional.

Despite India's commendable performance in the recently concluded 'Champions Trophy' and success in the West Indies tour, the betting and spot-fixing controversy is still smouldering in India. Ganesha takes this opportunity to peek into the 'Surya Kundli' of N. Srinivasan and BCCI's birth charts to find out what astrological factors are behind such an unpleasant controversy.


Name : N. Srinivasan
Date of Birth: 3rd January, 1945
Place : Chennai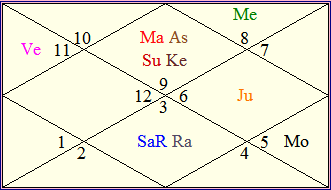 BCCI
4th December, 1928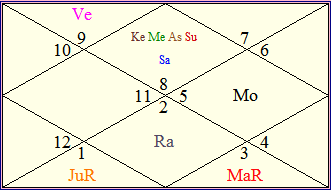 Astrological Observations:
Rahu, Ketu and Saturn are transiting through the 6th and 12th Houses of nodal axis in BCCI's chart. The period is not auspicious for BCCI.
Jupiter is transiting through the 7th and Saturn is transiting through the 11th House in N. Srinivasan's Surya Kundli.
BCCI is under the confluence of Saturn and Rahu, and hence it will go through turmoil and internal strife. Saturn and Rahu are transiting in close proximity to Sun, hence BCCI's unchallenged reputation as the apex cricketing body is at stake.
The transition of Jupiter through its 8th House and over natal Mars is also not propitious for BCCI, and it may find itself sitting on a boiling cauldron. Things could be very rough for it in the coming days.
Ketu and Rahu are transiting through the 5th and 11th House of nodal axis in N. Srinivasan's Surya Kundli. Transiting Saturn is aspecting N. Srinivasan's ascendant and natal Sun.
Jupiter is transiting through the 7th House and over natal Rahu and Saturn in N. Srinivasan's Surya Kundli.
Astrological Predictions:
Ganesha feels that the going will be very tough for N. Srinivasan.
The current transition of Saturn, Ketu and Rahu till middle of 2014 shall seriously question the authority of N. Srinivasan in the BCCI itself. He may feel himself cornered.
There will be major repercussion and revolt within the administration of BCCI owing to the confluence of Rahu and Saturn.
Jupiter's 7th House transit in N. Srinivasan's chart is a positive sign for him as he will valiantly fight against his opposition.
Placement of Sun and Mars together in N. Srinivasan's chart will make him obdurate as he will not be ready to budge an inch from his stand, leave alone relinquishing without a fight.
From the middle of 2014 things may improve for Indian cricket.
Following Rahu and Saturn's transit, sports in India will be at a crossroad in many areas and sections.
Mars is combusted and Saturn is retrograde in N. Srinivasan's chart, and therefore things will take time to get settled in his professional life.
To sum up, Ganesha feels that N. Srinivasan has a tough job ahead as his tenure and position within the BCCI is likely to become untenable and his adversaries will try to disrupt his plans and strategies. The scar left by the betting and spot-fixing scandal will take time to heal for cricket lovers in India. The next few months will be very important for Indian cricket, as it is on the threshold of a major reshuffle at the administration level. It can be said that within a few months, Indian cricket will back on the right track as before, however much work needs to be performed as the faith of crores of Indian cricket lovers must be restored. It looks highly improbable that N. Srinivasan will return to the helm of affairs in BCCI.

With Ganesha's Grace,
Basab Bijay Sarkar
The GaneshaSpeaks Team