Stars to favour the Indian sporting squad at the London Olympics 2012, says Ganesha.
Stars favour the Indian sporting squad at the London Olympics 2012, says Ganesha. Olympic Games 2012 or the London Olympics are barely a week away now. The world is awaiting the mega, international sporting event with a bated breath. Olympics' history chronicles, players' and countries' profiles and speculations on how, what, which etc. during the games have been dominating every major publication and news channel. Amidst all this exuberant, bubbling wait, each participant nation is preparing and praying to secure a respectable position in the medals' tally. India's performance in Olympic Games has never been very encouraging. However, with changing times and better preparations, will we be able to create history this time? Has India's time finally come to rise to the Olympic occasion? Let Ganesha answer this question with an astrological perspective. Read on.
India's Country Chart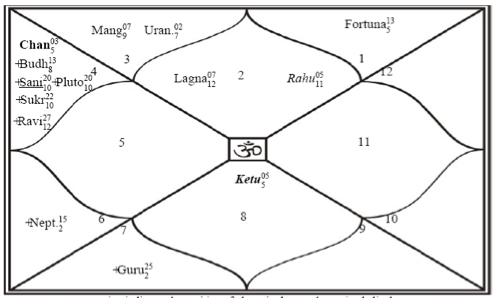 At the time of London Olympics, the transiting Jupiter shall be passing through the Ascendant in India's natal chart, while the transiting Saturn shall be passing through the 5th House till 5th August. 5Th House signifies the sports related activities. And, with these transits, the 5th House will be activated favourably for India. Meanwhile, Saturn shall also be passing through the zodiac sign Libra, and shall be aspecting the 3rd House from 5th August onwards, which will prove to be further beneficial for the country.
Besides, the Sun's Mahadasha and Saturn Bhukti will be influential during the Olympic Games, and this is going to be favourable for our sports-persons. Plus, the transiting Mars will form a Trine aspect with the transiting Jupiter. This will help the wrestlers, shooters, boxers and to an extent badminton players.
Venus is placed with Saturn in the 11th House of Navmansa chart in India's country chart. This is the signifier of women's team events, and it indicates a splendid performance from women participants, which may bring glory for the country.
Looking at the overall planetary picture, thus, it may be surmised that the Indian sporting squad in London Olympics looks set to perform pretty well, and may bring home medals and glory. If not much, then the medals and performances shall at least match up to the Beijing Olympics, promises Ganesha.
We wish the Indian Olympic Team a very good luck. May Lord Ganesha bless them.
With Ganesha's Grace,
Tanmay K.Thakar,
The GaneshaSpeaks Team