Yusuf Pathan, an explosive batsman and an adept all rounder from Baroda, just perfectly fits in the T20 format of cricket. The sterling, match winning performance he delivered while playing for Rajasthan Royals against Chennai Super Kings in the final match of IPL 1, is probably his biggest claim to fame. Hailed as a hurricane against the opponent team, he is a prodigy with the bat, never averse to risk, and ever raring to go. He enjoys a great reputation for his ability to singlehandedly turn the course of a match.

Ganesha uses the Vedic Astrology System to find out what's in store for the magic hard hitter this IPL.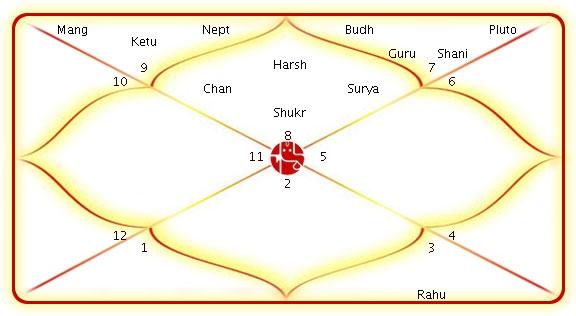 Rajasthan Royals' Indian Premier league team could be assured of a commendable and plentiful contribution from their most reputable and revered all-rounder, Yusuf Pathan, this season.

Yusuf Pathan is destined to have mixed planetary influences. The transiting Mars trine natal Sun-Venus-Moon indicates that he will contribute significantly for his team, Rajasthan Royals, between 15th March and 27th March, 3rd April and 6th April, & 13th April and 18th April.
His well-known ability to score big hits, and maintain a high run rate will be indispensable for his team during a stiff run chase which they may face in unpredictable matches. His pertinent contribution as an all rounder, will help him establish his position in the Rajasthan Royals squad.
However, the transiting Rahu conjunct natal Mars indicates that he may lose steam and focus at times and may get out due to wrong shot selections. For him, this IPL season will be a combination of  some forceful performances and a few very average efforts. He surely can make it better with determination and caution.

Wish him all the best. May the Lord Bless him with his calming presence and grace.

With Ganesha's Grace,
Tanmay K. Thakar
The GaneshaSpeaks Team