Anurag Thakur On A Vicious Wicket At Least For One More Year, Says Ganesha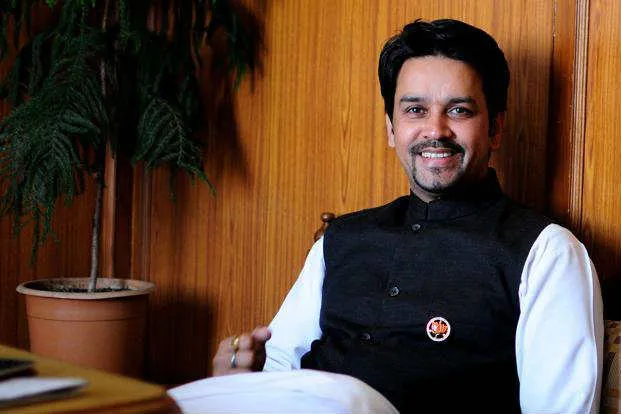 Probably the only cricket administrator who made his first class debut after becoming his state cricket body's president, Anurag Thakur, Member of Parliament and BCCI president, finds himself on a vicious wicket with bouncers whizzing past his ears. Thakur is from Himachal Pradesh, and played his one and only Ranji match after becoming the state body's president. To be fair, he put the state on the international cricket map by building a world class stadium in Dharamshala. He slowly rose through the ranks of India's cricket administration, and is now the president of the richest cricket association in the world, BCCI. Though it is the most powerful position in world cricket, it is not for the weak-hearted. A new controversy hits the board every other day. There couldn't be a worse time for a person to be in his shoes, with the Supreme Court ordering a freeze on all BCCI accounts even as New Zealand is playing a series in India, with one Test and 5 ODIs still remaining. If worse comes to worse, BCCI will have to call off the tour and the Kiwis may have to return home, which will be a disgrace not only to both the countries, but also to the game of cricket. After analysing Thakur's Horoscope minutely, Ganesha feels that Thakur's woes are likely to continue for at least another year.
---
Anurag Thakur
Anurag Thakur
Date of Birth: 24th October, 1974
Time of Birth: Unavailable
Place of Birth: Hamirpur, Himachal Pradesh, India
Solar Chart:-
Get your personalised Birth Chart and detailed readings with our personalised and hand-written Janampatri report.
---
Saturn to create a lot of problems for Thakur:
The transiting Saturn is moving over the Natal Rahu in his Solar Chart and hence he will go through turmoil, and internal strife within the BCCI may also become a tough task to handle for him.. BCCI's unchallenged reputation as the apex cricketing body will be at stake and he will be struggling to find suitable ways to resolve the problems. He may find himself sitting in boiling cauldron. Things could be very rough for him in the coming days.
---
Ketu to aggravate the problems:
Adding to this, the transiting Ketu is moving over the Natal Jupiter. So, there will be some serious questions for him and the BCCI itself. He may feel himself cornered at times. There will be major repercussion in the administration of BCCI owing to the adverse transit of Ketu and Saturn. The transiting Jupiter's aspect on the Natal Moon is a positive sign for him as he will valiantly fight against the odds and obstacles. He will not be ready to budge an inch from his stand, leave alone relinquishing without a fight. Want to know what your real strenghts and talents are? Are you curious to know what the planets indicate about your personality? Then, explore yourself with our personalised report – Your Astrology Profile!
---
Thakur will have to fend it like Dravid:
BCCI being the hen that lays the golden eggs, at any given time one can find many of its administrators vying for the top position, no matter what headaches it brings along. In this case, Ganesha feels that apart from the stiff posture taken up by the Supreme Court, Thakur will also have to face adversities from within the BCCI. His rivals are likely to disrupt his plans and strategies, and a major reshuffle in the BCCI is likely to happen. At any rate, at least for the next one year, the bouncers will continue, and Thakur will have to device new methods to fend them off.
With Ganesha's Grace,
Tanmay K.Thakar,
The GaneshaSpeaks Team
Have some queries in your mind regarding certain areas of life? Then, why continue to remain in doubt. Talk To Astrologer now for expert guidance and smart solutions!
---
---
Get 100% Cashback On First Consultation