Ajinkya Rahane Will Create Records Between August And October 2017, Predicts Ganesha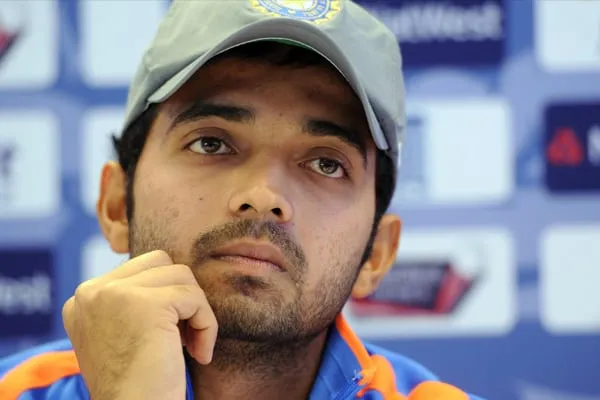 Ajinkya Madhukar Rahane is one of the handful of cricketers who has marked his Test captaincy debut with a victory when India defeated Australia in the fourth and deciding Test at Dharamshala recently, with regular captain Virat Kohli sitting out unfit. This should secure his place in the regular Indian team for a long while, but it has been a tiring time for him getting a break. He had to warm the benches and carry drinks for 16 months after he was named in the Test squad to play the West Indies in November 2011. Moreover, he had to face the torture of watching seven players make their debuts ahead of him. And, his performance in the limited overs games — ODIs and T20s — too was not encouraging. Rahane made his Test debut through sheer luck in 2013 against Australia in Delhi when Shikhar Dhawan and Gautam Gambhir both were declared unfit. Two single-digit scores in the game and critics were baying for his blood, saying he was no good and that he was not Test material, but the Indian cricket board reposed faith in him and gave him a second chance in the South Africa tour in 2013-14. This time Rahane grabbed the opportunity with both hands, and made 209 runs at an average of 69.66 in the series against a bowling attack packed with the likes of Dale Steyn and Morne Morkel in it. Eariler, Rahane made his Ranji debut in the 2007-8 season and averaged 62.04 after 100 innings. He scored over 1000 runs three times in his first five seasons, which put the spotlight on him. Here, Ganesha analyses his Horoscope and predicts that Rahane will play some spectacular knocks between August and October 2017.
Ajinkya Rahane
Date of birth: 6 June 1988
Birth Time: Not Known
Place of Birth: Ashwi KD (Ahmednagar Dist.),
Maharashtra, India
---
Stars Confer A Boon On Rahane
Moon is placed with Mars in Ajinkya Rahane's chart which is a boon for a sportsman. It makes him a determined, firm and ferocious warrior. Also, Mars is placed with Rahu, and hence he has the subtle aggression which makes him capable of being victorious over any opponent. Moon-Mars and Rahu in Aquarius make his chart strong. Now since he has come of age with a victory over Australia as a stand-in captain, we can only expect that it will give his confidence a huge boost which will lead him on to perform even better.
---
Planets Indicate He Has Good Leadership Qualities
But Rahu also has the potential to bring unexpected problems and setbacks in his career. Venus placed with Mercury in the 5th house from natal Moon makes him a good athlete and provides him his marvelous flexibility and reflexes. Saturn aspecting Jupiter indicates his exceptional abilities to understand the different aspects of the game. Sun in Taurus and Mars is aspecting it. So, he also has good leadership qualities, which he amply displayed in the Dharamshala Test recently against Australia, and became one of the handful of captains who have won their debut Test as captain.
What do the planets predict about your future? Buy the Detailed Life Predictions Report, to get the answers.
---
Rahane Will Not Be Able To Capitalize On Good Starts In IPL
The planetary influences during the IPL indicate that he will bat with perfect balance, accuracy in strokes, and good anticipation. He will contribute useful runs. He will be in good touch and will make useful scores. However, he may not be able to convert good starts into big scores, and hence consistency can be a problem. Despite that he will remain a very important part of his IPL Team.
---
Post-June 2017 His Performance Will Be Spectacular
We might see some spectacular innings from him in international cricket after mid-June 2017. He might also help Indian Team to win some important matches with some superb performance in the later part of the year.
---
Injury Scare In The Last Quarter Of 2017
In the last quarter of the year 2017, Ganesha predicts that Rahane will be injury prone and may require extra care of his fitness. Apart from taking care of his diet and lifestyle, the athletic cricketer will also have to ensure that he exercises well off-field, and does not take too many risks on-field.
---
Rahane May Create Big Records Between August And October 2017
The year 2017 promises to be a very introspective year for him. It will be a period of some pause and reflection between a very active cricketing career. He may create more records in the period between August and October 2017. There are a lot more responsibilities that will come his way in the year ahead.
With Ganesha's Grace,
Tanmay K.Thakar,
The GaneshaSpeaks Team
---
---
Get 100% Cashback On First Consultation