Will Pakistan sink deeper into the quagmire of terrorism?
Memories of last year's November 26 terror attacks in Mumbai were refreshed on March 3rd, 2009, when 12 gun-totting, masked men in Lahore gheraoed a bus carrying the Sri Lankan cricket team, which was on its way to the Gaddafi stadium. The indiscriminate firing by these terrorists on innocent sportsmen may not have killed anyone, but it shook the entire world, jolting governments out of their complacency.
It also brought back ghost of the Munich Massacre in 1972, in which Palestinian militant group Black September kidnapped and killed 11 members of the Israeli Olympic team.Though the Sri Lankan cricketers had a narrow escape, the spine-chilling incident has raised questions on Pakistan's security system and also cast a long shadow on the country's prospect of hosting any sports event in the future. In this regard, Ganesha does an astrological analysis of the future of Pakistan, which has become a haven for terrorists.
---
ASTROLOGICAL ANALYSIS
It was clearly mentioned in my earlier article that as a result of the Solar Eclipse in Capricorn and Lunar Eclipse in Cancer, Aslesha Nakshatra on February 09, 2009 could have adverse effects on Pakistan. The transiting retrograde Saturn in Leo and Mars-Rahu's presence in Capricorn has also played its role. As mentioned in that article, the Venus-Venus-Rahu period between 6th March and 5th September 2009 is likely to present challenging situations and severe political instability in Pakistan. Already, world leaders have raised concern over Pakistan government's pact with Taliban militants to establish Islamic law in the Swat Valley.
---
Sri Lankan Cricket Team – Attack Chart (CHALIT)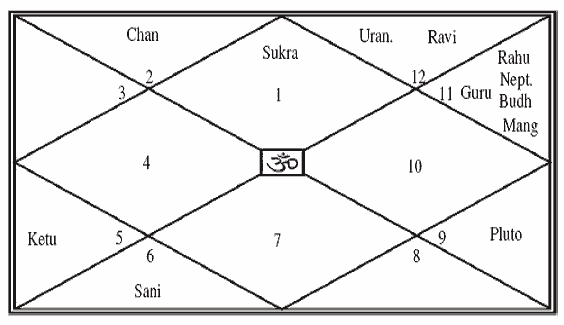 The deadly attack on the Sri Lankan cricket team was carried out at 8.40 am in Lahore. There are some voices in Pakistan who are pointing a finger at India for staging this assault. But, upon examination of the chart above, we find the presence of five planets, including Mars and Rahu, in the 11th House of Chalit chart. Now, this is a wonderful configuration clearly indicating the involvement of other, friendly countries (and that cannot be India, of course), or some close ally of Pakistan or even groups operating within Pakistan.
The attack on the Lankan cricketers should serve as a wake-up call for the Pakistan government to tackle the problem of terrorism brewing on its soil. If timely action is not taken, the result could prove disastrous. Ganesha predicts that the period between 23rd December 2009 and 11th March 2010 is extremely sensitive. There can be fierce agitations and confrontations, during which the Pakistan army may overthrow the government in a military coup, as has been common in the country.
For Instant Solutions! Talk To an Astrologer Now.
With Ganesha's Grace,
Tanmay K.Thakar,
www.GaneshaSpeaks.com
---
---
Get 100% Cashback On First Consultation