The face off between Gilani and Zardari over NSA Chief Durrani's sacking
Introduction
Currently, due to the sacking of NSA chief Durrani, Zardari and Gilani are at loggerheads with each other. As the differences between the duo hit the headlines about Zardari planning to oust Gilani, Ganesha looks into Gilani's Sun Chart to forecast whether he would survive the same or not.
Yousuf Gilani's Sun Chart details
DOB – 9th June 1952
POB – Karachi (Pakistan)
TOB – Unknown (Sun Chart)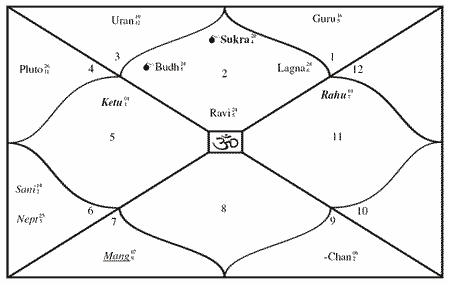 Astro Analysis
Surya is a natural significator of power and authority. Shani is the lord of his ninth house of bhagya and luck and lord of the tenth house of power and authority.
Note that transiting Surya is passing through the eighth house of evil and is inconjunct to Gilani's natal Surya. This indicates tough days, at least till 14th January 2009. Shani is in the sign Leo and is aspecting to and is square to his natal Sun. Transiting Shani is retrograde too, while his natal Shani is retrograde too.
The lord of the ninth house of bhagya being retrograde in the natal and retrograde in the transit, is very good for Gilani. Additionally, Shani is the lord of the tenth house or power and aspects its own house.
Prediction
Summarily, plainly looking at Gilani's Sun chart, he seems to stay in power in Pakistan as of now and Zardari may not able to harm Gilani's position. The Natal destiny of Pakistan and Gilani's true natal chart may play a significant role.
Wishing Gilani continued power.
With Ganesha's Grace,
Rikhav Khimasia
www.GaneshaSpeaks.com