Sourav Ganguly Horoscope Astrological Analysis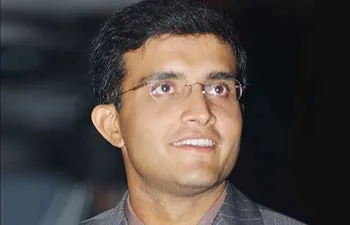 The 'Prince of Kolkata', Sourav Ganguly enjoys the support of millions of loyal and passionate fans not only in his home state, West Bengal but all across the world. Now that Sourav has retired from cricket, there is a tug of war between some political parties who are offering him a ticket in the upcoming general elections, as they are confident that, owing to his popularity, he is bound to win them a seat. But it probably is not just his popularity that has made the political parties to woo him and convince him to join them. His glorious past and clean image as a cricketer and as the captain of the Indian cricket team has played a major role in making him someone who all parties want on their sides.
Dada, as Sourav Ganguly is fondly called, was given the responsibility of captaincy when Indian cricket was tangled in the match-fixing controversies and the future seemed bleak, in early 2000. Cricket fans were hurt, and so were the cricket players. Ganguly rose to the occasion and infused aggression and confidence in the Indian cricket team and took it to the next level on the international platform.
Does his kundali say anything about his great leadership qualities? What is it that has earned him such a huge fan-following? Will he join politics and contest in the upcoming elections? Ganesha analyses Sourav Ganguly's Surya Kundali and puts forth some interesting observations. Read on to know more!
---
Sourav Ganguly's Birth Details
Birth date: 8th July, 1972
Birth time: 08:26 AM
Birth place: Calcutta
---
Sourav Ganguly's Kundali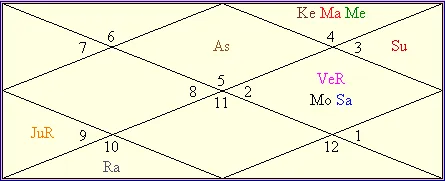 The striking feature in Sourav Ganguly's chart is the strong 3rd House Lord Venus, which is in the 10th House. Venus is in conjunction with Saturn and exalted Moon. Moon is further strengthened by being Vargottama. This planetary configuration gives him strong leadership abilities and exemplary qualities like discipline and sense of responsibility.
The planet of politics, Sun, is Amatyakarak in his chart and placed in the 11th House of Gain. Sun is further strengthened by being exalted in the Navmansa. This certainly seems to be an encouraging sign for him to make a career in politics. It makes him a strong leader, who will have a great mass following. He can be a huge bonus for any political party, feels Ganesha.
Sourav is currently under the influence of Jupiter Mahadasha and Sun Bhukti. Due to the powerful Sun in his chart, the former Indian national cricket team captain is getting offers from major political parties. However, Sun is hemmed in between malefic planets, which may restrict him from taking active part as a political party candidate. But there are chances that he may get a highly respectable post such as a representative of a governing body or an ambassador for an organisation.
Career decisions are some of the most important decisions in life, for they decide the kind of life you will live. If career issues are giving you sleepless nights, you better solve them at the earliest.
Avail Career Questions report and get 100% personalized advice from our expert astrologer about the career issues that have been bothering you.
For long-term career planning you may avail of our Career Reports.
Talk to an Astrologer Now, First Consultation with 100%
With Ganesha's Grace,
Tanmay K.Thakar,
The GaneshaSpeaks Team
---
---
Get 100% Cashback On First Consultation