Ganesha feels Narendra Modi is fit to be named BJP's PM candidate
Introduction:
He swept the students of Sree Ram College, Delhi, off their feet with his well-proven 'development mantra'. The VHP and the RSS have practically endorsed his candidature for prime minister come 2014 Lok Sabha elections. "Modi laao, desh bachao" seems to be the the new chorus of young India. Yes, the Gujarat CM Narendra Modi wave is unmistakably taking India by storm. And, all this happening when the Congress seems to be fast disappearing into oblivion.
Apart from the fact that the days of the Congress dynasty, which has monopolised power in India since independence in 1947, appear to be over, if the party chooses to live in denial that Narendra Modi is fast emerging from the shadows of Gujarat and sweeping the imagination of the country with his 'Made in India' vision, it does so at its own peril. Even top leaders of western countries, who had so far boycotted Modi over the 2002 riots, are beginning to accept that the Gujarat chief minister appears to be the only person suited to rule India, and thus, one by one, have not only begun softening their stand, but have positively started cozying up to him.
Ganesha, with the help of Vedic astrology, predicts the dynamic leader's chances of being named BJP's PM candidate during the 2014 Lok Sabha elections.
---
Narendra Modi Horoscope:
17th September, 1950
10:10:00
Vadnagar, Gujarat.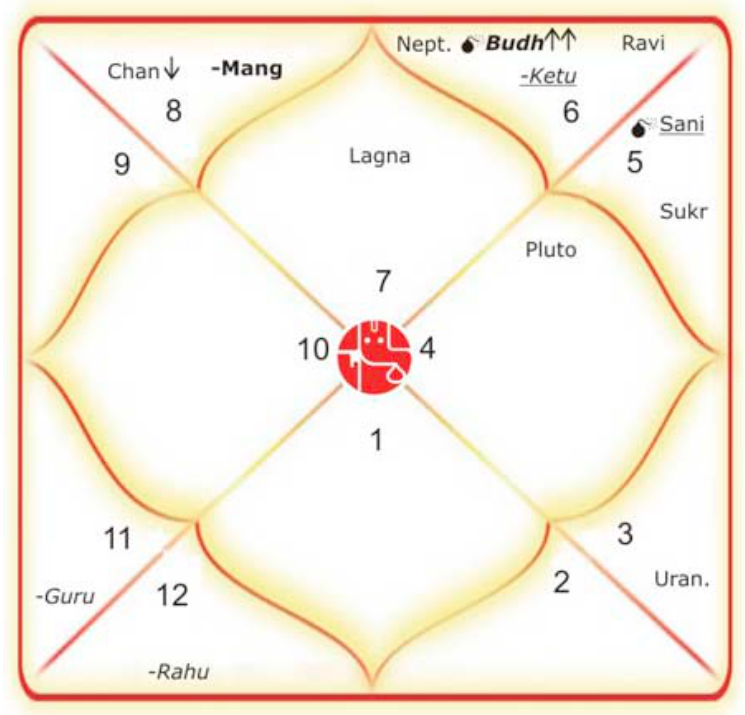 Mr Modi is currently under the influence of Moon Mahadasha. During 2014, natal Rahu will be the Antardasha Lord for him. Natal Rahu signifies the 6th House of his Horoscope due to which he will be strongly projected as BJP's prime ministerial candidate during next year's Lok Sabha Elections.
Jupiter, being the Lord of 6th House will be passing through the 9th and 10th Houses of his chart which represents gains and expansions in politics. The fortune part of this Horoscope may become stronger during 2014.
During the later half of 2014 (July to December), transiting Rahu and Ketu will be passing over natal Ketu and Rahu respectively. This generally signifies several negative effects in routine political life. This can also be termed as a bumpy ride on the political front.
In short, Ganesha is of the opinion that Mr Modi can be the first choice for prime ministerial candidate for upcoming Lok Sabha elections. But, the Horoscopes of other BJP national leaders will also play an important role in finalising the top candidate.
Enhance your abilities in life, access the Janampatri.
With Ganesha's Grace,
The GaneshaSpeaks Team
---
---
Get 100% Cashback On First Consultation