Robert Vadra – now, a story in making or breaking? Probes Ganesha.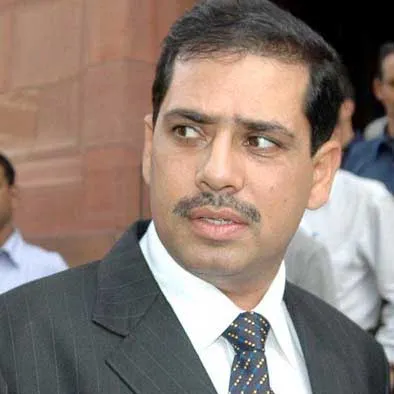 The controversial land broker and son-in-law of Rajiv and Sonia Gandhi, Robert Vadra had a merry time when the Congress (read Gandhis) ran the country. However, after the ascent of BJP's Narendra Modi as Prime Minister of India, and the cry for unearthing and bringing back unimaginable hoards of black money stashed away in foreign banks, Priyanka Gandhi's husband seems to be running for cover. Vadra has started winding up his businesses in Rajasthan. Six of his companies – Lifeline Agrotech, Greenwave Agro, Rightline Agriculture, Future Infra Agro, Best Seasons Agro and Primetime Agro – have either been dissolved or are in the process of being dissolved. A probe into his controversial relations and land dealings with DLF group is also underway. The future obviously looks ominous for him. Ganesha takes a look at the Solar Horoscope (Surya Kundali) of Robert Vadra, created as per his available birth date of May 18th, 1969.
As per Robert Vadra's Surya Kundali, Sun-Saturn-Mercury-Moon are posited in a Stellium in his Horoscope's 1st House. Vadra's Ascendant is in Aries, and his Moon Sign is Aries as well – shows this Solar Chart. The Sun is exalted, while Mars is Swagruhi (in its own House) and Venus is exalted in Vadra's Chart.
It is noteworthy that Vadra's Natal Mars is Swagruhi, and is posited in the 8th House in his Solar Chart. This can be held as the reason behind the strong real-estate and property background Vadra possesses. He is destined to own so much of land – say his stars.
Overall, Ganesha doesn't foresee Vadra facing any major issue on account of his assets and net worth till July 2015. The current selling off of his lands has, in fact, has a major strategic reason, and Vadra may even be making a good amount of profits during this time.
However, from 2nd November 2014 onwards, Saturn has started transiting through Scorpio, a Sign ruled by the planet Mars. This particular Saturn Transit creates problematic configurations in Vadra's Chart, and it shall last for the next 2.5 years or more. This transit may be held as a major reason that Mars is now working against him, forcing Vadra to sell off his land.
Also, it must be noted that during 1st March 2016 to 30th May 2016 and 5th November 2016 to 19th November 2016 – Vadra's stars shall be pretty vulnerable to disturbances of all sorts. He may have to face heavy or heightened issues, or even scandals around these time periods.
Ans, although, his net worth may not get affected till July 2015, as aforementioned by Ganesha, Vadra will have to be very careful, in the coming six months too. He is likely to come under a scanner of the new government, and may have unhappy/ unpleasant brushes with government, law or senior authorities, specifically after this time, feels Ganesha.
It is likely that under the planetary effects, there may be issuance of some orders against him or any person related to Vadra. Vadra will have to be especially careful of these government/ law related troubles during the time frames of – 30th January 2015 to 20th February 2015 and 16th September 2015 to 18th November 2015. During this time, Vadra may feel strained or tied up on account of certain government/ law orders or regulations, and may feel helpless, and unable to do as per his free well.
On the personal front, the Natal Solar Chart created as per Vadra's available birth data, he may be a somewhat detached person. On the whole, Ganesha doesn't foresee any major changes in the current status of his personal life in the coming time. However, Vadra will have to be very careful of his health and well-being, specifically during the entire Rahu Transit, which shall be ongoing till 2015 end-2016 beginning.
Get a detailed analysis of your birth chart and know the current Mahadasha you are facing.
With Ganesha's Grace,
Dharmeshh Joshi,
The GaneshaSpeaks Team
---
---
Get 100% Cashback On First Consultation